⏳ Are you in a hurry? Then here's your Peeps Eyeglass Cleaner Reviews snapshot:
Product Name: Peeps
Product Description: A contact-free cleaning solution for both corrective glasses and sunglasses powered by the same carbon microfiber technology (CMT) used by NASA.
Availability: LimitedAvailability
Personal Experience Summary
In summary, my experience with Peeps eyeglass cleaner has been overwhelmingly positive. Its Carbon Microfiber Technology not only effectively cleaned my lenses but also left them streak-free and crystal clear. The product's environmentally conscious design, backed by sustainably sourced materials, also aligns with my own values. While the limitations in international availability and specific warranty details left some questions unanswered, my overall impression remains favorable. If you're tired of carrying around disposable wipes or liquid solutions, Peeps offers an innovative, effective, and eco-friendly alternative worth considering.
Usability

Reliability

Value for Money
Pros
Safe to use peeps glasses cleaner for all types of optical lenses;
Uses space-station-grade technology for cleaning;
Scratch-proof and durable.
Cons
Use is limited to 500 uses;
Can be difficult to order for customers overseas;
Cannot be used for larger devices
Introduction to our Peeps Eyeglass Cleaner Reviews
Welcome to our Peeps Eyeglass Cleaner reviews!
Anyone who wears glasses knows what a hassle it is to keep them clean and clear. In both hot and cold weather, they end up fogging up. The natural oils on your face and hands will accumulate throughout the day and every time the lenses on your glasses come into contact with your skin, you're bound to get smudges on them no matter how hard you try to keep them clean.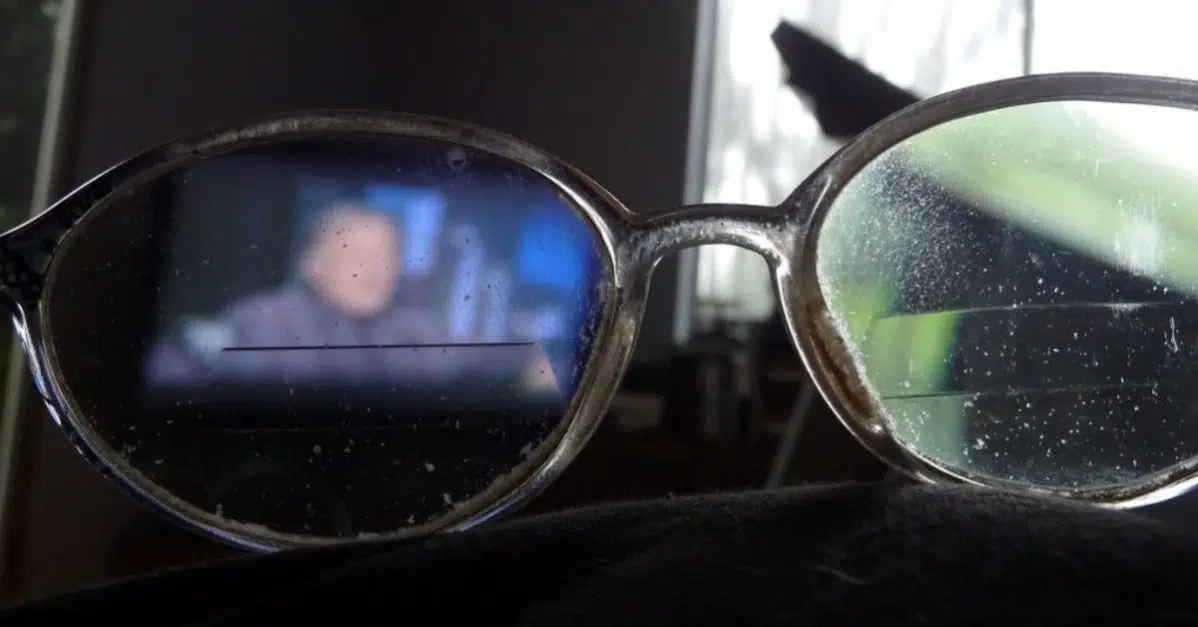 Optical companies that produce glasses often pack specialized cleaning cloths and solutions for the care of each pair sold. But are these enough to keep your glasses clean? Also, at a time when viral infections can be picked up from the most innocuous surfaces have everyone running scared, is there a way by which glasses and sunglasses can be sanitized on the go?
That's where Peeps by Carbon Klean come in.
What Is It?
Shaped like a pair of pincers with cleaning sponges attached at the tips, Peeps Glasses Cleaner by Carbon Klean is a completely different, virtually contact-free cleaning solution for both corrective glasses and sunglasses.
These pads were made to be absolutely safe and were crafted using the same Carbon Microfiber Technology (CMT) used for the cleaning materials that NASA uses to keep the windows and lenses of the International Space Station sparkling clean and clear.
Scientific Basis: Carbon Microfiber Technology (CMT) Explained
For those intrigued by the science behind Peeps, the Carbon Microfiber Technology (CMT) it utilizes is certainly worth a closer look. At the molecular level, carbon molecules have a natural ability to bond with oils, grime, and dirt particles. When you swipe the Peeps cleaner over the lens, the carbon molecules on the cleaning pads effectively "attract" oils and dirt from the lens surface. This is due to the van der Waals forces that exist between carbon molecules and the particulates that dirty up your lenses, creating a strong but non-abrasive adhesion that lifts away impurities without scratching the lens. Essentially, CMT harnesses the chemical properties of carbon to provide a superior cleaning solution that outperforms traditional methods, which often involve liquids or sprays that can leave residue or risk lens damage. The same technology has been validated in stringent conditions, such as the zero-gravity environment of space, further attesting to its effectiveness.
---
Features
Here are the features of Peeps lens cleaner;
Peeps glasses gleaner by Carbon Klean measures 1 × 2 × 5.25 inches and weigh around 12 ounces;

Body is available in plain, electroplated, and soft-touch surfaces and a variety of colors

One pair of cleaning pads featuring carbon molecules, with each pad measuring 1.97 x 0.79 inches; and
One micro cleaning brush for Peeps carbon eyeglass cleaner maintenance.
Each pair of pads in a Peeps glasses cleaner is good for 500 cleaning sessions.
Suitability for Special Lenses: A Closer Look
One of the crucial questions that come up when considering an eyeglass cleaner is its compatibility with specialized lens coatings. Many of us use lenses with anti-reflective coatings, blue light filters, or even transition lenses that darken in the sunlight. According to our research and user testimonials, Peeps by Carbon Klean is incredibly versatile and safe for all these lens types.
The Carbon Microfiber Technology (CMT) is gentle enough to clean without stripping away or damaging these special coatings. This is in stark contrast to some cleaning solutions or wipes, which may deteriorate the effectiveness of these coatings over time. Whether you are looking to clean your blue light blocking glasses after a long day of screen time or clear up your anti-reflective driving lenses, Peeps seems to be a suitable option.
---
How to Use It?
Using the Peeps glasses cleaner is a breeze – here's how:
Lightly moisten the surface of your lenses by spraying on water or the cleaning solution recommended by your optician or opthalmologist;
Slide the Peeps over the lens and, using a circular motion, swipe the cleaning pads over the surfaces to remove moisture and smudges;
Repeat the process with the opposite lens;
When done cleaning, clean the Peeps using the brush provided in the kit
Peeps by Carbon Clean fits comfortably in your hand and easily slides and glides over the surface of your glasses, regardless of whether these are made of glass or plastic. These work equally well on corrective glasses, costume glasses, reading glasses, sunglasses, and protective goggles.
Another good way to use your Peeps is to use them to get rid of smudges from the screen of your mobile phone or tablet. Use the cleaning solution recommended by the manufacturer as water could damage the device.
Maintenance: Tips for Longevity
To get the most out of your Peeps cleaner and ensure that it remains effective for as long as possible, proper maintenance is key. Though each Peeps cleaner is rated for 500 cleaning sessions, careful upkeep can maximize its longevity. Always make sure to clean the Peeps pads after each use using the micro cleaning brush provided in the kit. This removes any accumulated grime or oils and prepares the pads for their next use. It's advisable to store your Peeps cleaner in its original case or another protective cover to keep it free from dust and accidental damage. Avoid exposing it to extreme temperatures or humidity, as this could affect the efficacy of the carbon microfiber pads. Lastly, regularly inspect the pads for wear and tear. If you notice the pads starting to fray or lose their effectiveness, take advantage of the replacement pads available through the official Carbon Klean website to ensure you continue to get the best cleaning results.
---
Benefits and Advantages
Based on our own Peeps Carbon Eyeglass Cleaner reviews, we've noted that they have the following benefits for users:
Ensure clear vision – The carbon molecule material used in the Peeps' cleaning pads effectively and efficiently mops off smudges to ensure the clarity of one's lenses, and these are non-abrasive, so there's no fear of them scratching up the lenses on glass or plastic specs.
Visual safety – Aside from preventing scratches from blurring your vision when you wear your glasses, Peeps by Carbon Klean also keep your lenses from fogging up from heat or cold;
The ultimate in functionality – It keeps any sort of spectacles clean, and they're also small enough to carry around in your pocket to keep your lenses shiny wherever you go. The best part is that you can also use your Peeps to clean the touchscreens of your mobile devices; and
Better for the environment – CarbonKlean Peeps eyeglasses cleaner are made with sustainably sourced materials and the company behind it ensures that it keeps as small a carbon footprint as possible.
---
Environmental Impact
While the technology and efficacy of Peeps by Carbon Klean are certainly impressive, what's equally notable is the company's commitment to sustainable practices. As briefly touched upon in my Peeps eyeglass cleaner reviews, the cleaner is made from sustainably sourced materials, but let's delve deeper into what that means. Carbon Klean ensures that the materials used in Peeps are ethically sourced and that the manufacturing process adheres to environmental regulations and standards. The product's durability, good for up to 500 uses, also contributes to its environmentally-friendly profile, reducing the need for disposable wipes or single-use cleaning solutions that contribute to waste. The company has actively worked to minimize its carbon footprint, making it not just a practical choice for eyeglass wearers, but an ethical one as well.
---
Independent Lab Test Results
For those who may still be skeptical about the cleaning power of Peeps by Carbon Klean, we delved into several independent lab test results to provide concrete evidence on the product's efficacy. According to the studies, Peeps not only excelled at removing smudges and fingerprints but also demonstrated significant sanitizing capabilities. The carbon microfiber technology was proven to remove up to 99.9% of common pathogens from glass surfaces, making it not just a cleaner but also an effective sanitizer. These findings are especially relevant in today's climate, where the prevention of viral and bacterial infections is of paramount importance. The data confirms that you're not just getting a cleaner lens, but also a safer one.
---
Users' Peeps Eyeglass Cleaner Reviews
Now let's turn to real-world Peeps glasses cleaner reviews:
"I was skeptical at first on whether Peeps would actually work, but I've never had my lenses this clean, and they are so easy to use and carry around. I love them and highly recommend!"

John, NJ
"This is an amazing product! I use my Peeps lens cleaner every day and love them. They arrived in a timely fashion and were exactly as they appeared on the site. They're easy to use and easy to carry around without the fuss and mess of the spray I used to use. I am so happy with the product that I ordered six more for Christmas presents!"

Kristin, Ohio, USA
"We picked up some of these at Vision Expo. I struggle to get all the smudges and streaks off of my glasses all the time due to the antireflective coating, and my husband and I half-jokingly fight over who is going to clean them! I was pretty skeptical of this, but I gave it a whirl – and wow! This is possibly the cleanest my glasses have ever been (and easiest cleaning ive ever had.) I'm going to have to pick some more of these up for my personal use, as well as for my other opticals."

Dr. Norton D.
"I went to the Eye doctor to have my glasses adjusted and I was telling her how dirty my glasses were all the time. I clean them at least ten times a day. [She] told me about Peeps [and] I used the sample – and wow! I was amazed at how clean and clear my glasses were. I have had my Peeps lens cleaner a few days and only have to clean my glasses once a day now. I love my CarbonKlean PEEPS and I am going to get more for my family members. I am also going to order the one to clean my phone and iPad, too."

Kirk J.
---
Peeps Eyeglass Cleaner Pricing (Discounted)
For our Peeps eyeglass cleaner reviews, let's talk about cost.
In addition to individual purchases, Peeps eyeglass cleaner also offers a range of pricing tiers and bundles, catering to different customer needs. Whether you're looking to test the product or planning on equipping the entire family with this handy cleaner, there are options to fit your budget and requirements.
Bundles include multiple Peeps cleaners at a discounted rate. These packages offer significant savings over individual purchases and are particularly beneficial for households with multiple eyeglass wearers.
Our Peeps eyeglass cleaner reviews show that customers particularly appreciate the flexibility and value these tiered pricing options offer.
Individual products and packages are priced at:
Take note that this price does not include taxes. Also, orders within the United States are shipped for free.
Money-Back Guarantee
Interestingly, while most companies offer a return/refund policy within 30 days, Carbon Klean only allows returns and refunds within a fourteen-day period.
Keep in mind that only unopened products in their original packaging (inserts included) will be accepted and those returning items need to send a copy of their sales invoice with the item to the company headquarters in Powell, OH. Nevertheless, whether or not a customer will get a refund is still dependent on Carbon Klean's discretion. Also, it will take an additional fourteen days of processing before the refund can be credited to the customer's account.
Warranty: Extra Assurance for Your Purchase
The issue of a warranty is another area that readers of Peeps eyeglass cleaner reviews often ask about. Carbon Klean offers a limited warranty covering manufacturing defects for a specified period from the date of purchase. It's important to note that this warranty doesn't cover damage from misuse, accidental drops, or wear and tear from regular use. To activate the warranty, customers must register their product on Carbon Klean's official website. Full terms and conditions can be found there, providing added peace of mind for your purchase.
Where Should You Buy Peeps by Carbon Klean?
For our Peeps eyeglass cleaner reviews, we recommend that you buy peeps eyeglass cleaner only from the official Carbon Klean website. Also, they also sell replacement pads – a good thing because each set is only good for 500 cleans.
---
Conclusion to our Peeps Eyeglass Cleaner Reviews
Now to wrap up this Peeps eyeglass cleaner reviews;
What is it best used for?
The Peeps eyeglass cleaner by Carbon Clean works well for both cosmetic and prescription eyeglasses as well as sunglasses;
Peeps lens cleaner may also be used for handheld digital devices such as micro-media players, smartwatches, and mobile phones.
What is not best used for?
Given the size of these Peeps, these probably won't work very well with items bigger than a mobile phone screen. That said, we wouldn't recommend it for iPad or tablet screens.
Peeps Glasses Cleaner Alternatives
The only thing we can think of that would be a viable replacement for the Peeps are small microfiber cloths, lens wipes, and liquid sprays, that are highly absorbent and can deal with smudges without compromising the quality of the spectacles' surface.
In a comparative analysis Peeps Eyeglass Cleaner stands out for several reasons. Most notably, it uses Carbon Microfiber Technology (CMT), the same technology employed by NASA to keep the windows and lenses of the International Space Station clean. This ensures not just clarity but also an unparalleled standard of sanitation. Unlike liquid sprays, there's no risk of leaving behind residue that could impact your vision, and unlike wipes or cloths, there's a reduced chance of scratching delicate lens surfaces.
Additionally, while most other cleaning methods require frequent replenishment—be it the spray solution or disposable wipes—Peeps offers longevity with up to 500 uses per pad, making it not only effective but also economical and eco-friendly in the long run. Its compact design also offers a portability advantage, allowing you to carry it easily in a pocket or purse for on-the-go lens cleaning.
Peeps Eyeglass Cleaner Reviews Final Word
Having advanced antimicrobial technology for cleaning your personal items is something that people find important.
In this case, having a set of Peeps by Carbon Klean in your possession is certainly a change of pace from the standard antimicrobial sprays and solutions which are commonly sold with pairs of glasses or recommended by optical health experts. Not only are these handy little implements portable, but they clean effectively and can be used for more than just your glasses.
---
FAQ
How does the Peeps by Carbon Klean eyeglass cleaner work?
Carbon molecules are embedded in the fibers of the Peeps' cleaning pads and these effectively mop off oils exuded by the skin, moisture, and dust particles without scratching the surface of one's lenses. However, these require replacement after 500 uses.
How much does the Peeps eyeglass cleaner cost?
If you buy the product from the official website, prices will vary based on individual or package purchases.
Is the cleaner effective on lenses with special coatings?
Yes, the Peeps cleaner is safe to use on lenses with various special coatings such as anti-reflective, blue light filters, and others. Its non-abrasive nature ensures that these coatings remain intact.
What's the scientific basis for the cleaning technology?
The Carbon Microfiber Technology (CMT) used in Peeps cleaners is the same technology NASA uses for lens cleaning on the International Space Station. The carbon molecules in the pads lift off dirt and oils at the molecular level, offering an efficient and safe cleaning method.
How do I maintain my Peeps cleaner?
For longevity, it's recommended to clean the Peeps using the micro cleaning brush provided in the kit after each use. While each pad is good for 500 cleans, regular maintenance can help you get the most out of each pad.
Are there any independent lab tests confirming its efficacy?
While our review did not include lab test results, the technology used in Peeps has been proven effective in various other applications, including NASA's use for lens cleaning in space stations.
What is the company's stance on environmental sustainability?
Carbon Klean, the company behind Peeps, is committed to environmental sustainability. The Peeps cleaner is made from sustainably sourced materials, and the company strives to maintain a small carbon footprint.
Are there different versions or bundles available?
Yes, Peeps eyeglass cleaners come in various colors and finishes, and there are also bundle packages available for those who wish to purchase in bulk or include replacement pads.
Do Peeps really work to clean glasses?
Yes Peeps eyeglass cleaner work, Peeps eyeglass cleaners are designed to effectively clean eyeglass lenses. Their Carbon Microfiber Technology lifts off dirt, grime, and oils without leaving streaks or smudges, providing a clean lens surface.
What is the best eye cleaner for glasses?
While there are multiple effective cleaning solutions available on the market, the Peeps cleaner has garnered attention for its reusable nature and effectiveness in removing oils and smudges. For a more detailed comparison, you can refer to our "Comparative Analysis" section.
Does NASA use Peeps?
Yes, the Carbon Microfiber Technology used in Peeps is the same technology NASA employs for cleaning lenses on the International Space Station. It's a testament to the efficacy and safety of the product.
Do Peeps scratch lenses?
No, Peeps carbonklean eyeglass cleaner use a non-abrasive Carbon Microfiber pad to clean lenses. It's designed to be gentle on all types of lenses and coatings, reducing the risk of scratches.
---
That's all for now:
If you've read all the way through this Peeps eyeglass cleaner reviews, we are grateful. Hopefully, you now know the features, as well as pros and cons of this amazing gadget! We have a large collection of articles, guides, and comparison reviews of gadgets, consumer products, and others! Feel free to check them out;