Do you want to skip the read and get right to my pick? Between Legacybox vs Costco, the better digitalization service for most people is Legacybox. However, best in category is iMemories.
Introduction to Our Legacybox vs Costco Photo Center Comparison
Welcome to our Legacybox vs Costco comparison review!
With digital photography becoming so commonplace, one would think that photo prints and negatives have become unnecessary. In a way, they are – but what about old negatives and prints that we have on hand that we don't want to lose yet are taking up a lot of physical space? That's where image digitization comes in and where our Legacybox vs Costco review shows you the way.
What are Legacy Box vs Costco Photo Center?
Legacybox is a service that digitizes different forms of analog media. By "analog," we're talking about old-school VHS and Betamax cassettes, film negatives, Super 8 film footage, and even audio recordings on cassette or vinyl.
Legacybox has been in the business of digitizing memories for over a decade. The Tennessee-based company has served over half a million families, converting old analog media into digital formats. Their longevity and volume of clients speak volumes about their experience and expertise.
Costco, on the other hand, refers to the Costco Photo Center which Shutterfly has taken over in the United States and Canada. (In the UK, however, the service is still running.) In its heyday, however, it also handled the digitization of analog media from film and slides.
Costco Photo Center, as part of the larger Costco Wholesale Corporation, has had a presence in the photo development and digitization industry for many years as well. Although their primary focus is not on photo digitization, their long-standing reputation in various services does lend some credibility.
---
Legacybox vs Costco Photo Center Quick Comparison Table
Note: Prices are subject to change over time. Please click the links to check for current pricing.
| Feature | Legacybox | Costco Photo Center |
| --- | --- | --- |
| Service Type | Photo, Video & Audio Digitization | Limited digitization services & photo printing |
| Digitization Process | Mail-in service, digitizes to DVDs, CDs, or digital files | In-store service, digitizes to DVDs |
| Formats Accepted | Photos, Negatives, Slides, Video Tapes, Movie Films, Audio Tapes | Photos, Negatives, Slides, Video Tapes |
| Digital Delivery | Digital download (additional cost) | Not Offered |
| Physical Delivery | DVDs, CDs, Thumb Drive | DVDs for digitization services |
| Pricing Structure | Bundle pricing model, different sizes of boxes | Varies based on service, generally more affordable |
| Customer Support | Phone, Email | In-store customer service, online support |
| Turnaround Time | Approximately 6-8 weeks | Typically faster, depends on service |
| Customer User Reviews | Mixed, praised for quality but some concerns about turnaround time and customer service | Varies, generally positive in-store experience |
| Extra Features | Barcode system for tracking progress | None |
| Cost | Check Current Pricing | Check Current Pricing |
---
Usability
Legacybox
For Legacybox, digitization is a fairly straightforward experience. You order a box from the service, then fill it up with the materials you want to be converted into digital files. A step-by-step guide comes with the box, and that includes shipping instructions. Pack, ship, and you get your files sent back in a secure thumb drive, a set of DVDs, or a secure download link that lets you drop everything into Google Drive.
Costco
Whether it's Costco Photo Centre UK or Costco x Shutterfly, we have to admit that this isn't very user-friendly in the strictest sense. Digitization is strictly limited to the following formats:
Film in 8mm, 16mm, and Super8 formats;
Video in VHS, Hi-8 / Video 8, MiniDV, and Betamax cassette;
Photo prints in either 2"x2" or 8"x12" size formats; and
Slides.
Plus, you only have a choice of either thumb drive or DVD for the output. In the case of pictures, you're only allowed a maximum of 500 images and you can't submit albums or negatives.
Winner – iMemories! This phase of Legacybox vs Costco we're giving to Legacybox as it makes things so easy for clients. Plus, the instructions are very clear.
---
Legacybox vs Costco Geographical Coverage
Legacybox
Legacybox ships to all 50 U.S. states and also offers international shipping. This means you can use their service no matter where you are in the world.
Costco
Costco Photo Center, on the other hand, is limited to regions where Costco stores exist and where the photo center service is offered. That being said, Costco has stores in many countries, including the U.S., Canada, UK, Australia, Spain, France, and more.
---
Reliability
Legacybox
The main issue with Legacybox is that it takes 10 to 12 weeks before you get your digital files. But Legacybox's team of imaging professionals ensures that all analog media sent are re-recorded and remastered for clarity and quality. That said, it may take a while, but you know your memories are in good hands.
Costco
Speed was the keyword for Costco as you could get your digitized files back – either stored in a USB drive or a DVD – in as little as three weeks. However, many people who used the Photo Center service complained that not all their files were included in the finished product.
Winner – Legacybox! Legacy box vs Costco in the reliability department? Legacybox takes a while, but you can be sure of the results.
---
Technology Used
Legacybox
For Legacybox, they make use of professional-grade equipment and technology in their conversion process. This involves using high-quality scanners for photo and slide digitization, and specially designed equipment for video and audio tape conversions. This level of sophistication not only ensures that your precious memories are handled with care but also results in a high-quality digital output that preserves the original quality of your media as much as possible.
Costco
On the other hand, the exact details of Costco Photo Center's digitization process aren't disclosed. However, based on their final product, it can be inferred that they use standard digitization equipment suitable for mass production. As a result, while the quality is generally acceptable, it might not match up to the level of clarity and quality preservation offered by Legacybox's advanced equipment.
Winner – Legacybox! As such, if the quality of the digitization is a priority, Legacybox might be the better choice due to their use of professional-grade digitization technology. However, if you're looking for an affordable option and are willing to compromise slightly on the quality, Costco Photo Center's service should be adequate.

---
Features
Legacybox
Submission Box

Varying capacity from two to 40 analog materials for digital conversion;
How-to guide;
Security barcodes for safe submission; and
Pre-printed shipping label

Output Formats

Link access to cloud with unlimited downloads and a 90-day secure backup;
Secured thumb drive; and
Burning to standard DVD.
Costco
Submission method involved dropping off the actual analog material at your nearest Costco Photo Center;
Output Formats

Memory Cloud, but only up to 90 days of access;
USB thumb drive; and
Burning to standard DVD
Winner – Legacybox! Legacybox wins again here, as it offers an excellent range of both submission and output options for service users.

---
Data Safety and Privacy
When it comes to handling your precious memories, safety and privacy are top concerns.
Legacybox
Legacybox is particularly vigilant about the safety and security of your media during the digitization process. From the moment your media arrives at their facility, it's tracked through their state-of-the-art barcoding system, ensuring that nothing gets lost. In terms of privacy, Legacybox is committed to keeping your data secure. Only trained professionals have access to your media, and your digital files are stored on a secure server. They also respect your privacy and assure that they do not share your digital files with third parties.
Costco
As for Costco Photo Center, while they haven't made any explicit statements about their data safety and privacy practices, it can be assumed that they follow standard industry practices to ensure the safety and privacy of your media during the digitization process. This likely includes measures such as secure handling of your media and restricted access to your digital files. However, for more specific details about their safety and privacy measures, it would be best to directly contact Costco Photo Center.
Winner – Legacybox! while both services seem to take steps to ensure the safety and privacy of your data, Legacybox appears to have more robust and explicit measures in place. Therefore, if data safety and privacy are high on your list of priorities, you might want to lean towards Legacybox.
---
Legacybox vs Costco Value for Money
Legacybox
Legacybox standard digitization packages differ based on the number of items to be digitized. Regardless of output format, digitization charges are set at $19.99.
While there are Legacybox kits offered on Amazon, we recommend that you get the service only through the official website to ensure quality service and output.
Free trial/refund policy/money-back guarantee
Also, if you aren't happy with the service, you can return the output and file for a refund within 30 days upon receipt of the finished product.
Costco
In its heyday, Costco's base charge for any form of digitization was set at $19.99 for batches of up to 62 individual photographs/negatives or individual videos. An additional $0.32 was charged per photo/slide in excess of the 62-piece limit for photos and slides.
Remember to always avail of photo digitalization services from the official website only.
Free trial/refund policy/money-back guarantee
The store offers store credit instead of refunds within a period of 60 days after delivery.
Be sure to shop for photo services only from their official website.
Winner – Legacybox! This is definitely Legacybox's to win. While it may be on the expensive side, the fact that items come out in great quality makes it worth it.

---
Legacybox vs Costco User Reviews
Legacybox
Legacybox currently has a 3.9-stars rating on Trustpilot with five-star reviews making up 52% of the 616 currently on record. Most of those who reviewed the service appreciated the clear submission instructions, secure delivery, and satisfying output.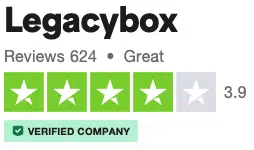 In addition to Trustpilot reviews for Legacybox, they also boast a 4.5-star rating on Facebook from over 1,500 reviews. Reviewers frequently commend their excellent customer service and high-quality digitization.
Costco
We think we now know why Costco gave its photo service to Shutterfly: people found the service cheap enough, but the online ordering system was confusing. It was difficult to navigate and frustrating. Customers also complained that their output would often get lost in transit, but they would still be billed.
For Costco Photo Center, there aren't as many centralized review platforms, partly due to the photo service being just one of Costco's many services. However, you can find various individual reviews and discussions online. On Yelp, for example, the reviews are mixed, with some praising the quality and affordability of their photo printing service, while others cite issues with customer service and order fulfillment.
Winner – Legacybox! The people have spoken in this Legacybox vs Costco showdown – and it's a win for Legacybox.
---
Environmental Impact
Legacybox
Legacybox is committed to sustainable practices. Their digitization service inherently promotes environmental responsibility by reducing the need for physical storage of media. However, they don't explicitly state any other eco-friendly practices.
Costco
As for Costco Photo Center, while Costco as a corporation has an Environmental Sustainability policy that focuses on energy conservation, waste reduction, and water conservation, there's no specific information on the environmental impact of their photo center.
---
Conclusion and Recommendation to our Legacybox vs Costco Comparison
Now to wrap up this comparison of Legacybox vs Costco;
Who is Legacybox best for?
Legacybox works best for those who want quality digitization services but are willing to wait.
Who is Costco best for?
In its heyday, Costco worked best as a digitization service for those with smaller requirements or who needed their files in a month.
Legacybox vs Costco Alternatives
In lieu of both, we recommend iMemories as it offers an excellent digitization service with great value for money.
Legacybox vs Costco Final Word
Legacybox takes the win regarding service and value in today's Legacybox vs Costco comparison. We appreciate how it enables users to digitize their analog media resources into files they can browse on their mobile phones, computers, and even SmartTV screens. However, we must recommend another service – iMemories for your digitalization needs.
Please note that to get authentic, high-quality products, we recommend that you avail of iMemories only from their official website. You may also get great discounts for multiple purchases. Beware of purchasing from marketplace sites claiming to be resellers so to avoid issues with refunds and returns in the future!
---
FAQ
Which is better – Legacybox vs Costco?
Legacybox is the much more reliable option, even if it is more expensive.
When did Costco stop offering their photo services?
Costco officially stopped accepting imaging services last January 28, 2023. They are now partnered with Shutterfly for photo services.
---
If you've read all the way through this LegacyBox vs Costco comparison, we are grateful. We have reviewed all these products in detail, feel free to check them out;