⏳ Do you want to skip the read and get right to my pick? Between iMemories vs LegacyBox, the better digitalization service for most people is iMemories.
Introduction to our iMemories vs Legacybox Comparison
You're reading our iMemories vs LegacyBox comparison review!
File digitization is something that has enabled many people to preserve precious memories that would have been lost due to physical deterioration and consequent wear and tear. But with all the digitization services currently available, which ones can help preserve your old photos, home movies, and voice recordings in the best manner possible? That's what we're finding out in today's iMemories vs Legacybox comparison.
What are iMemories and Legacybox?
iMemories is a service that combines image and footage digitization with 21st century streaming media. It scans images from analog materials like undeveloped film rolls, negatives, filmstrips, and even video recordings into high-quality files that can be kept in an online archive, posted on a blog or social media, and even streamed through its proprietary app like your favorite films or binge-worthy shows.
On the other hand, Legacybox is a service that digitizes different forms of analog media. By "analog," we're talking about old-school VHS and Betamax cassettes, film negatives, Super 8 film footage, and even audio recordings on cassette or vinyl.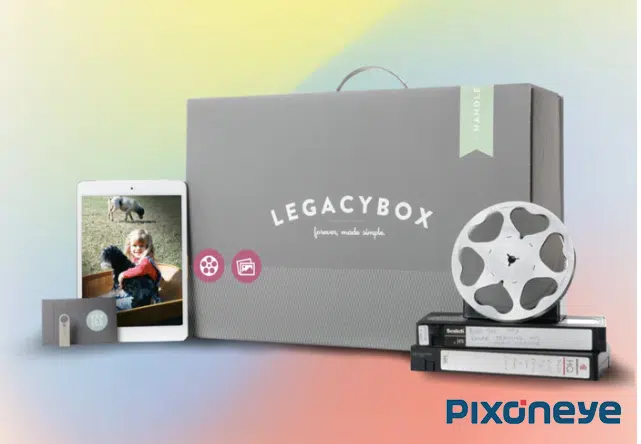 ---
iMemories vs LegacyBox Quick Comparison Table
Note: Prices are subject to change over time. Please click the links to check for current pricing.
| Feature | 🏆 iMemories (My Pick!) | LegacyBox |
| --- | --- | --- |
| Service Type | Photo & Video Digitization | Photo, Video & Audio Digitization |
| Digitization Process | Mail-in service, digitizes to cloud | Mail-in service, digitizes to DVDs, CDs, or digital files |
| Formats Accepted | Photos, Negatives, Slides, Video Tapes, Movie Films | Photos, Negatives, Slides, Video Tapes, Movie Films, Audio Tapes |
| Digital Delivery | Online via iMemories Cloud | Digital download (additional cost) |
| Physical Delivery | DVDs, Thumb Drive | DVDs, CDs, Thumb Drive |
| Pricing Structure | Per item pricing model, with additional cost for physical media | Bundle pricing model, different sizes of boxes |
| Customer Support | Phone, Email | Phone, Email |
| Turnaround Time | Approximately 3-4 weeks | Approximately 6-8 weeks |
| Customer User Reviews | Generally positive, praised for quality and service | Mixed, praised for quality but some concerns about turnaround time and customer service |
| Extra Features | App for viewing and sharing, safe and secure storage | Barcode system for tracking progress |
| Cost | Check Current Pricing | Check Current Pricing |
---
Usability
iMemories
iMemories lets you load up to 1,500 photo prints, 10,000 photographic negatives, and even 150 film reels (dependent on format) into a crush-proof box that you ship over to them. You can have your material shipped back as DVDs, stored in a secure flash drive, or accessed through the cloud to stream through the app.
Legacybox
Legacybox offers a similar practice. You order a box from the service, then fill it up with the materials you want converted into digital files. A step-by-step guide comes with the box, and that includes shipping instructions. Pack, ship, and you get your files sent back in a secure thumb drive, a set of DVDs, or a secure download link that lets you drop everything into Google Drive.
Winner – iMemories! This phase of iMemories vs Legacybox is a close one, but iMemories gets the win thanks to the option of streaming one's memories.
---
Reliability
iMemories
While most services offer three weeks as their fastest, iMemories has you covered in two. The service ships your converted files back in as early as two weeks and any streaming footage is digitally mastered to look as bright as the day it was filmed.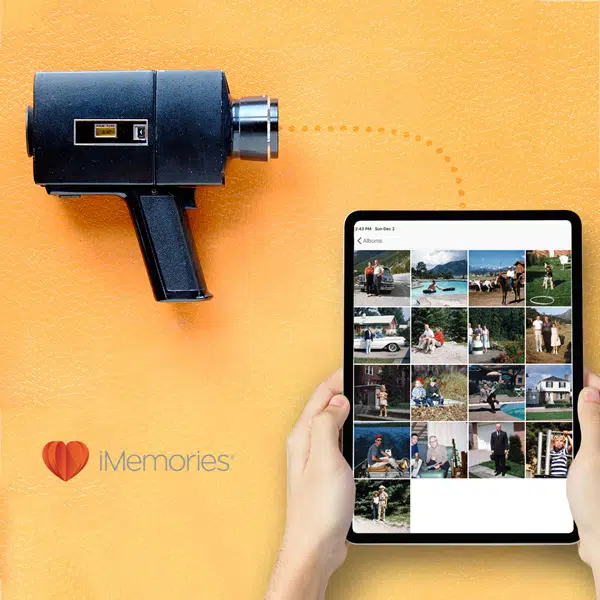 Legacybox
The main issue with Legacybox is that it takes 10 to 12 weeks before you get your digital files. But Legacybox's team of imaging professionals ensures that all analog media sent are re-recorded and remastered for clarity and quality. That said, it may take a while, but you know your memories are in good hands.
Winner – iMemories! Need it back fast? iMemories has you covered with a speedy service that doesn't skimp on quality.

---
Security and Privacy
Both iMemories and Legacybox have specific measures to ensure the privacy and security of the data.
iMemories
iMemories uses proprietary software to track every item for digitization. Their cloud service provides online access to your digital content which is password-protected for added security.
Legacybox
Legacybox also prioritizes data security, with each item barcoded for individual tracking. They provide secure digital downloads, which let you access your digitized content securely.
---
File Quality
iMemories
iMemories offers a resolution of up to 600 dpi for photos and 1080p for videos. Their team uses professional-grade equipment and software for digitization, ensuring a high-quality result. Their service also includes color correction, brightness, and contrast adjustments for better quality output.
Legacybox
Legacybox also uses advanced technology for digitization, providing clear, high-resolution digital files. While they don't disclose the exact resolution details, customer reviews often praise the quality of their digital outputs.
---
Features
iMemories
Submission Box

Varying capacity depending on media format;
Security barcodes for safe submission; and
Pre-printed shipping label

Output Formats

Link access to cloud with app-based streaming;
Secured thumb drive; and
Burning to standard DVD.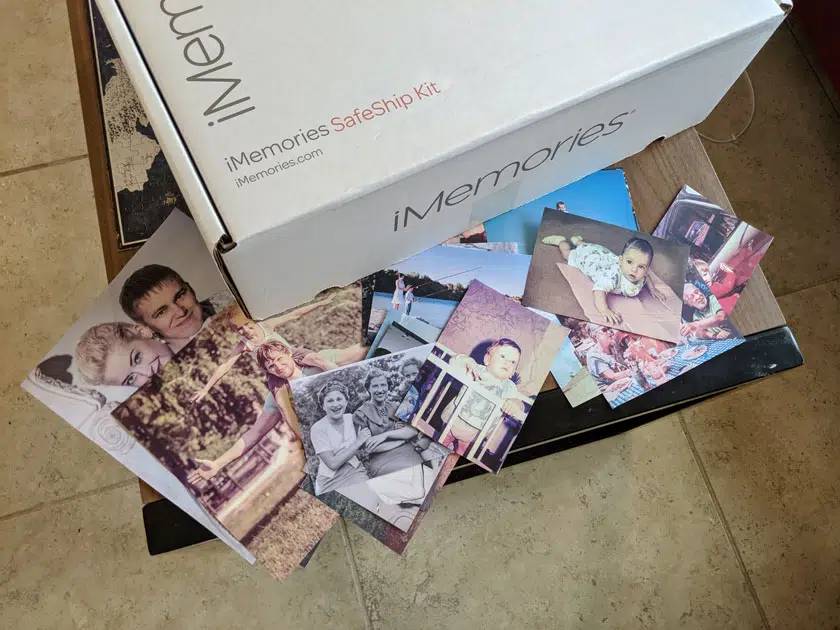 Legacybox
Submission Box

Varying capacity from two to 40 analog materials for digital conversion;
How-to guide;
Security barcodes for safe submission; and
Pre-printed shipping label

Output Formats

Link access to cloud with unlimited downloads and a 90-day secure backup;
Secured thumb drive; and
Burning to standard DVD.
Winner – iMemories! Again, this was close fight between iMemories vs LegacyBox, but we're giving it to iMemories in terms of maximum capacity.
---
Sustainability
Information about the environmental impact of the services offered by iMemories and Legacybox is somewhat limited. They don't specifically mention any eco-friendly practices or detail how they dispose of physical materials after digitization. However, digitization itself contributes to reducing physical clutter and potentially the need for physical storage space, which can have an environmental benefit.
---
Additional Services
iMemories
iMemories provides an additional service of video editing. With this feature, users can customize their digitized videos by adding music, titles, and transitions.
Legacybox
On the other hand, Legacybox doesn't seem to offer additional editing services but stands out with the variety of options for output formats. This includes physical outputs like DVDs and thumb drives, as well as digital download links.
---
iMemories vs LegacyBox Customer Support
iMemories
iMemories provides customer support through phone and email. They also have an extensive FAQ section on their website to help customers with common queries.
Legacybox
Legacybox offers customer support via phone and email as well, and they also have a detailed FAQ page. Additionally, they offer tracking for your order, allowing you to know the status of your digitization process.
---
iMemories vs LegacyBox Value for Money
iMemories
Base fee (taxes included) for iMemories' SafeShip kit includes prices above. The streaming app is free to download, but you'll need to pay $49.99 a year to subscribe to the iMemories Cloud storage/streaming capability.
Free trial/refund policy/money-back guarantee
iMemories has a 30-day return or refund policy.
Get your analog products digitized through iMemories via their official website only.
Legacybox
Legacybox standard digitization packages depend on whether you're digitizing two items to a 40-item package. Regardless of output format, digitization charges are set at $19.99.
Free trial/refund policy/money-back guarantee
Also, if you aren't happy with the service, you can return the output and file for a refund within 30 days upon receipt of the finished product.
We recommend that you get the service only through the official website to ensure quality service and output.
Winner – iMemories! Talk about state of the art – iMemories gets the vote for value for money.
---
iMemories vs LegacyBox User Reviews
iMemories
iMemories currently has a 4.6-star rating on Trustpilot, with five-star ratings making up 78% of the 297 reviews on record. Those who rated the service consider it a great investment for saving family memories and milestone events.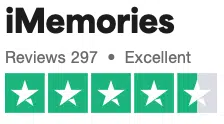 Legacybox
Legacybox currently has a 3.9-stars rating on Trustpilot with five-star reviews making up 52% of the 616 currently on record. Most of those who reviewed the service appreciated the clear submission instructions, secure delivery, and satisfying output.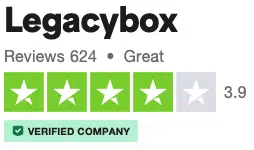 Winner – iMemories! Again, we're giving the win to iMemories in this iMemories vs LegacyBox user reviews comparison.
---
Conclusion and Recommendation to our iMemories vs LegacyBox review
Who is iMemories best for?
We recommend this service to more digitally-savvy people who want to share their memories online through new-generation apps and social media.
Who is Legacybox best for?
Legacybox works best for those who want quality digitization services but are willing to wait.
iMemories vs Legacybox Alternatives
Can consider a service like DigMyPics or Costco as a viable alternative to the two we presented in today's review however I consider them as both inferior services to iMemories.
iMemories vs LegacyBox Final Word
We appreciate it when a digital service delivers on time and in terms of value and quality. That said, iMemories gets our vote as the winner in our iMemories vs Legacybox comparison.
Please note that to get authentic, high-quality products, we recommend that you avail of iMemories only from their official website. You may also get great discounts for multiple purchases. Beware of purchasing from marketplace sites claiming to be resellers so to avoid issues with refunds and returns in the future!
---
FAQ
Is the iMemories app free?
Yes, it's also downloadable for both Android and iOS devices.
Can I have Hollywood films on tape converted via iMemories?
No, the service has a strict policy against the unwarranted reproduction of full-format films, television show episodes, and similar forms of copyrighted material.
---
If you've read all the way through this iMemories vs LegacyBox comparison, we are grateful. We have reviewed all these products in detail, feel free to check them out;