⏳ Do you want to skip the read and get right to my pick? Between Solgaard vs Away, the better check-in luggage for most people is Solgaard.
Introduction to our Solgaard vs Away Comparison
Welcome to our comparison of Solgaard vs Away!
Do you need a travel buddy? Why don't you first start with quality luggage?
With the world reopening after more than two years, everyone is jonesing to head out and travel. That said, new luggage needs to be bought – but what suitcase can carry all your stuff? Today's Solgaard vs Away comparison review can help you decide.
What are Solgaard vs Away?
Solgaard is a company that deals exclusively on sustainable luggage. It began operating in 2016 and became widely known as a manufacturer on suitcases made from recyclable ocean plastic. In the context of this comparison, Solgaard refers to the brand's Solgaard Check-in Closet.
It's a uniquely functional suitcase that is excellent for extended trips. Such suitcases come with their own collapsible interior shelving system. Each of these shelves easily doubles as a compression cube which can be carried on its own or bundled with the rest to keep your clothing and other items organized even on the go.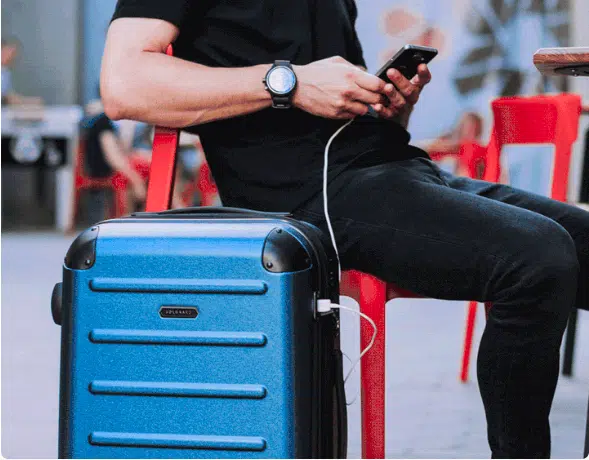 Away, on the other hand, refers to that brand's The Medium checked-in suitcase. This is a compact behemoth of a suitcase that has the virtue of being able to carry twice as much as most conventional pieces of luggage. This is made possible by an inner compression system with separate mechanisms for clothing and toiletries.
---
Solgaard vs Away Quick Comparison Table
Note: Prices are subject to change over time. Please click the links to check for current pricing.
| Feature | 🏆 Solgaard (My Pick!) | Away |
| --- | --- | --- |
| Product Type | Check-in luggage | Check-in luggage |
| Key Features | Removable internal shelving system, Durable Exterior, One-pinch opening mechanism | Interior compression system. |
| Standard Weight | 11lbs / 5kg unfilled | 8.5lbs / 3.9kg unfilled |
| TSA Compliant Locks | Yes | Yes |
| Mobility | Silent 360-wheels | 360 wheels; smooth, but tend to rattle at times |
| Customer Support | Email only | Online form only |
| Customer User Reviews | Highly recommended; customers appreciate quick response, good product | Mostly negative; customers lament that it takes two or more days before a representative gets in touch, product not as durable as advertised |
| Extra Features | Sustainable, as each piece of luggage is made with upcycled PET plastics | Optional USB charger |
| Cost | Check Current Pricing | Check Current Pricing |
---
Usability
Solgaard
Easy to open with a single pinch, but also easily securable with a tri-digit TSA lock, Solgaard is a highly useful piece of luggage as the removable and extendable interior storage system enables users to carry more on their trips.
What sets Solgaard apart from other luggage products is its emphasis on both functionality and sustainability. It helps the Earth by recycling ocean plastic to make its suitcases. In that sense, the user experience is heightened since Solgaard not only fulfills your travel requirements but also your commitment to the environment.
Away
Away's core product offers a lightweight alternative to conventional luggage. Its built-in compression system ensures that you can throw in as much as you need for your trip without worrying that you won't be able to close the suitcase. This suitcases captures the needs of the modern traveler. It offers sleek and minimalistic design that makes it a more sophisticated alternative to its competitors.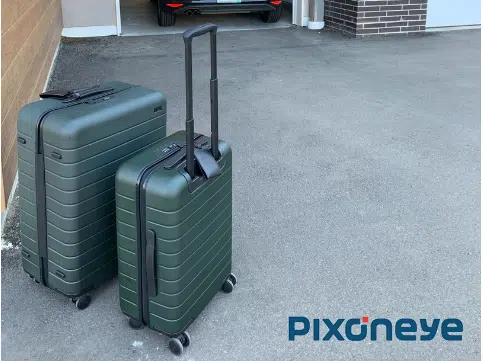 Winner – Draw! Solgaard vs Away? We're calling the usability category a draw.
---
Reliability
Solgaard
Waterproofing is already built into the package here. However, it may not hold up so well if submerged for a prolonged period of time. Nevertheless, it holds up well to being tossed around when being loaded. Considering how it's made of upcycled materials, it comes away practically unscathed and undented.
So yes, generally, customers consider Solgaard a trustworthy brand. If you glance through numerous reviews, you'll see how users give it a positive rep functionality- and quality-wise. Better, its commitment to sustainability also enhances its social proof.
Away
On the whole, Away has made a reputation for itself in the industry. It's well-known for style and functionality, paying attention to design and detail.Unfortunately, if you read up on customer reviews, Away did not hold up so well when it came to reliability. The luggage's polycarbonate exterior doesn't last as long as promised. Also, the wheels tend to become unstable if you've filled the suitcase up to its limit.
Winner – Solgaard! In this Solgaard vs Away comparison of reliability, the former takes this category thanks to stability and durability.
---
Features
Solgaard
Solgaard prides itself with its focus on sustainability, innovative design, and durability. Here are some of its standout features:
Removable yet self-supporting internal shelving system;
Friction-free 360-degree wheels for smooth and silent transit;
TSA-compliant three-digit lock;
One-pinch opening mechanism;
Soft-grip handle developed for comfortable transit;
Highly-durable polycarbonate shell to withstand being tossed around; and
Recycled plastic interior made with around 229 ocean-bound plastic bottles as a sustainable alternative to freshly-pressed plastics.
Away
Meanwhile, Away focuses on minimalism and functionality to take a piece of the travel industry. Here are its main features:
Durable polycarbonate hard shell;
Leather detailing;
TSA-approved combination lock for extra safety;
360° spinner wheels that ensure a smooth ride;
Interior compression system to help pack more in; and
Hidden laundry bag to keep dirty clothing separate.
Winner – Solgaard! In this Solgaard vs Away comparison, Solgaard comes away with the win in the features category.
---
Value for Money
Solgaard
The standard Solgaard Check-in Closet will set you back by $355.00 and shipping is free for orders higher than $100 within the Mainland United States.
If you aren't happy with your purchase, you may return the item within 30 days of receiving it. Note, however, that you will need to shoulder the cost of shipping it back.
Solgaard suitcases can be purchased exclusively from the official website.
Away
The Medium by Away will set you back by $345.00. It has a fairly long warranty period – 100 days – and you can return the item if you aren't happy with it. Keep in mind, however, that you will need to fill up an online form in order to apply for a refund.
Away suitcases may be purchased at their official website.
Winner – Solgaard! Between Solgaard vs Away, Solgaard may be more expensive by $10.00, but it definitely gives you your money's worth.
---
User Reviews
Solgaard
Solgaard currently has a 4.2-star rating on Trustpilot, with five-star reviews making up 63% of the 641 currently on record. Customers appreciate the quality of the product, as well as the excellent service on the part of Solgaard staff.
Away
Away Travel currently has a 3.4-star rating on Trustpilot, with five-star reviews making up 49% of the 740 currently on record. Unfortunately, customers found fault with the products' durability as well as the protracted amount of time customer service takes.
Winner – Solgaard! Solgaard takes the win where customer reviews are concerned.
---
Conclusion and Recommendation to our Solgaard vs Away Comparison
Now to wrap up our Solgaard vs Away luggage comparison;
Who is Solgaard best for?
Travelers who are on long trips, especially those who need impeccable outfits for business trips.
Who is Away best for?
We recommend Away for those going on trips that will run for less than a week.
Solgaard vs Away Alternatives
Solgaard vs Away vs Monos. If you're not in the mood for either Solgaard or Away, Monos offers its own range of sustainably-made, highly-durable, and reliable check-in luggage. You should read up on customer reviews to know if Monos is a good fit for you.
Solgaard vs Away Comparison Final Word
Solgaard takes the win in this context, thanks to reliable quality and exceptional service. Solgaard has won our check-in luggage comparison, so we recommend getting the best prices and deals for this extraordinary luggage.
Please note that to get authentic, high-quality products, we recommend that you avail of Solgaard only from their official website. You may also get great discounts for multiple purchases. Beware of purchasing from marketplace sites claiming to be resellers so to avoid issues with refunds and returns in the future!
---
FAQ
Is the Solgaard Check-in Closet waterproof?
Yes, but while the luggage can withstand getting splashed occasionally and hold up well in the rain, it may not fare so well if submerged for a prolonged period.
How many PET bottles are used per Check-in Closet?
At least 229 sea-bound PET bottles are used for each suitcase, and this decreases the amount of plastic pollution in the water.
Are Solgaard products vegan?
While not necessarily vegan-certified, no animal materials are used in the production of Solgaard's luggage products.
---
If you've read all the way through this Solgaard vs Away comparison, we are grateful. We have reviewed all these products in detail, feel free to check them out;