⏳ Do you want to skip the read and get right to my pick? Between DigMyPics vs ScanCafe, the better digitalization service for most people is ScanCafe. However, best in category is iMemories.
Introduction to Our DigMyPics vs ScanCafe Comparison
You're reading our comparison of DigMyPics vs ScanCafe!
The practice of file digitization is something that has spread throughout the globe, enabling people to preserve ephemeral memories from old-school formats to new-generation media. As these services are not made alike, today's DigMyPics vs ScanCafe review seeks to see which is better.
What are DigMyPics vs ScanCafe?
DigMyPics is an Arizona-based online business specializing in converting visual media into digital files. That said, the service can handle audio and video conversions and stands out in the industry by offering reel-to-reel / cassette-to-file audio conversion.
ScanCafe, on the other hand, serves a dual purpose. Along with file digitization to add from a number of formats, its primary claim to fame is as a photo restoration service that brings faded pictures back to their original glory.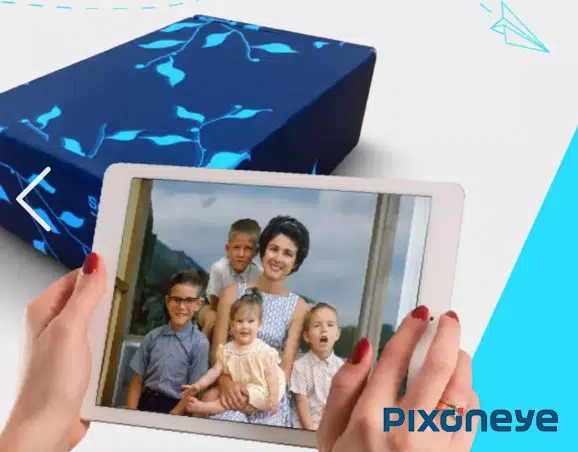 ---
DigMyPics vs ScanCafe Quick Comparison Table
Note: Prices are subject to change over time. Please click the links to check for current pricing.
Feature
DigMyPics
ScanCafe
Service Type
Photo and Video Digitization;
Audio File Conversion
Photo, Video, and Audio Scanning; Home Video Transfer; Photo Restoration
Digitization Process
Mail-in service, digitizes to secure server for download
DVD, data disk, and flash drive
Mail-in service, digitizes to multiple output formats
Formats Accepted
Photos, Negatives, Video Tapes, Film Reels, Audio Tapes
and / or Vinyl Records
Photos, Negatives, Slides, Video Tapes, Movie Films, Audio Tapes
Digital Delivery
Same-day digital download
Cloud upload, digital download
Physical Delivery
DVDs, Thumb Drive
Thumb Drive
Pricing Structure
Format dependent, cost charged per piece
Bundle pricing model,
dependent on box package
Customer Support
Phone, Email
Phone, Email, Face-to-Face
At branch
Turnaround Time
Claims to do same-day conversion; conservative estimate two to three weeks
Approximately 3-4 weeks
Customer User Reviews
Mostly negative
Highly-recommended
Extra Features
Offers reel to reel audio conversion
Photo restoration that brings even faded pictures to their original beauty
Cost
Check Current Pricing
Check Current Pricing
Usability
DigMyPics
DigMyPics tends to complicate its process for customers. You're encouraged to gather all the stuff you want to convert together, then check their site for a cost estimate. In terms of shipping, you can't use just any courier service to ship your files over: you need to use their courier of choice.
ScanCafe
ScanCafe offers a similar service: customers determine what and how many materials they want converted, then place an order on the website. Customers then pack their items and ship them out; they can do this on their own, or use a ScanCafe Value Kit.
Winner – ScanCafe! This was a close one between DigMyPics vs ScanCafe as their processes are similar, but ScanCafe is more efficient.
---
Reliability
DigMyPics
While DigMyPics claims that they can do same-day conversion and you can get a link to the converted files quickly, we recommend that you take this with a grain of salt. Also, the service's downloader for the desktop is slow, tends to stop, and restarts completely in the event of a power failure. Not very reliable, if you ask us. Their high-resolution scanning services typically provide 600 DPI (dots per inch) resolutions or higher, which is suitable for most archival and printing purposes.
ScanCafe
It does take about a month, but ScanCafe does a thorough job when it comes to delivering quality products to users. It also has a minimum 80% guarantee, meaning the bulk of your materials will be digitized in the best way possible. ScanCafe offers three scanning options: Economy, Standard, and Enhanced. Economy scanning offers 600 DPI suited for personal use and online sharing, with Standard scanning and Enhanced scanning offering 2000 DPI and 4000 DPI, respectively.
Winner – ScanCafe! Between DigMyPics vs ScanCafe, we don't mind waiting so long as the finished product is done well, and ScanCafe delivers on that score.

---
Features
DigMyPics
Photo Keeper service with the following features:

Video conversion from several tape formats;
Film conversion from 8mm to 16mm;
Multiple format photo conversion; and
Audio conversion.
ScanCafe
Submission Box (can be yours or the company's Value Kit);
Service options include standard file digitization as well as multimedia remastering and photo restoration;
Output Formats

Link access to the cloud with unlimited download;
Secured thumb drive; and
Burning to standard DVD.
Winner – ScanCafe! In this DigMyPics vs ScanCafe features comparison,we appreciate that ScanCafe makes it clear about what it can do for its customers and in what forms they can get their orders in.
---
Value for Money
DigMyPics
Our issue with DigMyPics? They charge you by the piece, and their pricing structure is quite complicated. While standard photo conversion starts at $0.49 per item, converting audiovisual files are priced depending on format – and the management will get back to you on that.
Free trial/refund policy/money-back guarantee
To be fair, you can get a full refund if you file a complaint within 21 days of delivery.
Be sure that you're interacting with the right people and transacting with DigMyPics only through its official website.
ScanCafe
Talk about low prices: ScanCafe's minimum charge per material is just $0.34 for photos, photo negatives, and slides. Multimedia options start at $28.00 per item.
The company also offers expedited processing for an additional charge, and you get materials within ten days.
Free trial/refund policy/money-back guarantee
The money-back guarantee only covers those filed within 30 days of final payment.
Note that ScanCafe has no external service resellers, so it's best to contact them through their official website or at the nearest physical branch.
Winner – ScanCafe! ScanCafe takes the cake when it comes to value for money.
---
User Reviews
DigMyPics
Unfortunately, DigMyPics doesn't have the most savory reputation with customers. Mostly, people have complained about the overall quality of the finished product, including badly done color correction, discoloration of images scanned from slides, and warbling audio remasters. Likewise, customer assistance is neither friendly nor helpful.
ScanCafe
ScanCafe currently has a 4.6-star rating on Trustpilot, with five-star reviews making up 82% of the 3,212 currently on record. Most of those who reviewed the service appreciated the clear submission instructions, secure delivery, and satisfying output.
Winner – ScanCafe! ScanCafe wins over DigMyPics in this category.
---
Conclusion and Recommendations to our DigMyPics vs ScanCafe Review
Who is DigMyPics best for?
This service works for those for whom quality is not an issue.
Who is ScanCafe best for?
Anyone who appreciates expertly done photo and audiovisual digitization done right.
DigMyPics vs ScanCafe Alternatives
iMemories is one of the best digitization services and it has its own streaming app.
DigMyPics vs ScanCafe Comparison Final Word
ScanCafe takes the clear win here. While the companies offer similar services, ScanCafe does a better job in terms of service and product delivery. Still, there are other more robust alternatives like iMemories that we highly recommend and you should seriously consider.
Please note that to get authentic, high-quality products, we recommend that you avail of iMemories only from their official website. You may also get great discounts for multiple purchases. Beware of purchasing from marketplace sites claiming to be resellers so to avoid issues with refunds and returns in the future!
---
FAQ
Does ScanCafe allow in-person submissions?
Yes, but you will need to check its service network to know if they have a shop near you.
How do I get more bang for my buck from ScanCafe?
ScanCafe offers Value Kit packages for those who want quality output but have a limited budget.
---
If you've read all the way through this DigMyPics vs ScanCafe comparison, we are grateful. We have reviewed all these products in detail, feel free to check them out;