⏳ Are you in a hurry? Then here's your short Solgaard Carry on Closet Review summary:
Product Name: Solgaard Carry-on Closet
Product Description: The Solgaard Carry-on Closet is a unique piece of luggage that contains a collapsible set of six shelves that can be easily toted around when you travel.
Availability: LimitedAvailability
Usability

Reliability

Value for Money
Pros
Sustainably made
Performs a number of purposes
Makes packing for travel easier and more organized
Cons
High price point
May not last well if submerged
Capacity may be limited for some
Introduction to our Solgaard Carry on Closet Review
You're reading our Solgaard Carry on Closet Review!
While traveling is a serious pleasure many of us look forward to – especially in these days that the world is reopening for travelers – we find packing our luggage a chore, unpacking it a bore, and opening/closing it at our destination of choice a challenge because we don't know how to organize our stuff.
Like many travelers, I'm sure many of us wonder if it's possible to carry our closets and armoires with us on our trips. Today's Solgaard Carry On Closet review may give us the necessary answers.
Presentation
Packing for a trip entails a great deal of organization and time – the latter of which most of us don't usually have, especially if you were notified about a business trip on short notice.
It's a common enough joke that those on the run just toss everything in a suitcase, then go. But that poses problems of their own when it's time to unpack. That said, is there any way we can have the organizational capacity of a proper closet paired with the convenience and weight of a conventional suitcase?
What is the Solgaard Carry On Closet?
Created by company founder Adrian Solgaard, the Solgaard Carry-on Closet is a unique piece of luggage which contains a collapsible set of six shelves that also double as compression cubes that can be easily toted around when you travel, keeping clothing and other items organized even on the go.
The Solgaard Carry-on Closet currently comes in two models: the classic carry-on closet which is compliant with airport standards throughout much of the world, and the larger Carry-on Closet Plus which is compliant with most US airlines.
---
Features
The Solgaard Carry-on Closet's key features are as follows:
Six-shelf interior configuration to help organize your clothing and other travel necessities;
Friction-free 360-degree wheels;
TSA-approved combination dial lock;
Interior crafted from 100% recycled plastic derived from used PET bottles;
Padded grip handle for comfortable movement;
Ribcage exterior design made specifically for ease in terms of sliding into overhead bins; and
Easy-access USB port for charging mobile devices on the go.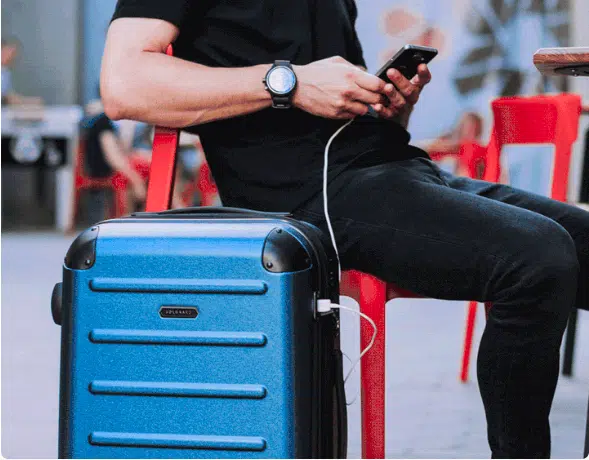 ---
How to use it?
To start using your Solgaard Carry-on Closet:
Ensure that the internal shelving is fully extended;
Open the suitcase door by 90 degrees;
Clip together both of the hanging latches to prevent further extension;
Lift the shelving system up and hang it from the suitcase handle;
Pack each of the shelves to a maximum of 70%;;
Close the suitcase by lowering the shelves into the suitcase;
Compress the shelves into place and close the suitcase;
If much of the stuff you're packing is bulky, be sure to use the compression straps inside the case; and finally
To unpack, reverse the above mentioned process.
---
Benefits and Advantages
Using a Solgaard Carry-on Closet is one of the most helpful things you can do for yourself when traveling. Its primary benefits on the road include:
Its friction-free wheels make it easy to drag around even over long distances and uneven surfaces;
Massive capacity enables you to bring more things on a trip;
The Carry-on Closet makes it easier to organize your things before the trip and even better to manage while you're traveling;
Easier to open with its one-pinch opening / closing design;
Available in six stylish colors and two capacity types;
Highly beneficial to the environment as PET bottles are used to craft the item, preventing these from littering the oceans or landfills; and
Serves a secondary purpose by helping you charge your mobile devices while on the go.
---
Users' Solgaard Carry on Closet Reviews
"Let's be honest: I hate hardshell luggage. I've never found a piece that worked well for my travel needs, until now. The closet option allowed me to unpack in a snap. The Solgaard Carry-on Closet is fairly lightweight but durable as it definitely handled the first round of international travel like a boss. I'm an habitual overpacker, but it amazingly handled my ridiculous load of clothes for my eight-day trip. I also love that it was made from recycled materials but it's not flimsy like some recycled products can be. I'd definitely recommend this to avid travelers."

Reese D.
"I just got my Solgaard Carry-On Closet and I'm very pleased with its overall dynamics! I travel often for work and, with the current issues happening in the airline world thus far with missing and delayed luggage, this carry-on is the way to go. I recommend you get a dependable one and this is it! Taking mine with me on my first trip to Frankfurt!"

Peggy M.
"Wow! Having the ability to pack the amount of clothes I was able to with the Solgaard Carry-on Closet suitcase was unreal. I went to a conference for a week and everyone asked me if I had any more luggage – and they were floored when I said, 'Yep, that's all that I have.' Solgaard is the way to go; I really love my carry-on closet."

Gerald B.
---
Solgaard Carry On Closet Pricing (Discounted)
For this Solgaard review, what about prices?
The standard Solgaard Carry-on Closet will set you back by $275.00 at Solgaard Carry On Closet Stores. These prices exclude shipping and handling.
If you're packing for a longer trip or need to pack specialized gear for infant or geriatric care, we recommend getting the Carry-on Closet Plus which retails at $295.00.
Remember to watch out and use Solgaard discount codes, Solgaard promo codes, and Solgaard coupon code offered on their site. That way, you get the best value for your money.
Money-back guarantee
If you aren't happy with your purchase, you may return the item within 30 days of receiving it. Note, however, that you will need to shoulder the cost of shipping it back.
Where to buy?
Get an authentic item exclusively at Solgaard Carry On Closet stores, specifically from the official Solgaard website.
Best to avoid reseller sites on Amazon, eBay, Facebook Marketplace, for possible refund policy issues.
---
Conclusion to our Solgaard Carry on Closet Review
Now to wrap up our Solgaard review;
What is it best for?
Travelers who are on long trips, especially those who need impeccable outfits for business trips.
What is it not best for?
Short trips, the ones running for less than a couple of days.
Solgaard Carry-on Closet Alternatives
Solgaard vs Away. One of the best products to rival Solgaard is Away, which offers more or less similar features.
Solgaard vs Away vs Monos. Yet, if you compare Solgaard with Away or with Monos, another emerging brand, Solgaard has better value for money, while Away and Monos offers a lifetime warranty for some parts but not all.
If you're looking for a backpack, then Solgaard Backpacks are also available on their official website.
Solgaard Carry on Closet Review Closet Final Word
If you're jonesing to fly, make it a point to get a good suitcase that you can easily organize, pack, and unpack. For that reason, the Solgaard Carry-on Closet should be an item for your serious consideration.
Our Solgaard Carry On Closet review is meant to help readers make informed decisions before making a purchase. In which case, we recommend you do your own research to see what the best options are for your needs.
---
FAQ
Is the Solgaard Carry On Closet waterproof?
Yes, but while the luggage can withstand getting splashed occasionally and hold up well in the rain, it may not fare so well if submerged for a prolonged period.
How many PET bottles are used per Carry-on Closet?
At least 229 sea-bound PET bottles are used for each suitcase, and this decreases the amount of plastic pollution in the water.
Are Solgaard products in Solgaard Carry On Closet stores vegan?
While not necessarily vegan-certified, no animal materials are used in the production of Solgaard's luggage products.
---
That's all for now:
If you've read all the way through this Solgaard Carry On Closet review, we are grateful. Hopefully, you now know the features, as well as pros and cons of this amazing product! We have a large collection of articles, guides, and comparison reviews of gadgets, consumer products, and others! Feel free to check them out;