⏳ Are you in a hurry? Then here's your SnapPower Guidelight Review snapshot:
Product Name: SnapPower Guidelight
Product Description: SnapPower GuideLight is an outlet cover plate with three motion sensor-activated LED night lights across the bottom.
Availability: LimitedAvailability
Usability

Reliability

Value for Money
Pros
Energy-efficient;
Easy installation;
Great for home safety
Cons
Lighting is somewhat dull
Introduction to our SnapPower GuideLight Reviews
Welcome to our Snappower Guidelight reviews!
Don't you just hate moving around your house in the dark in the middle of the night? Or need to deal with bulky night lights that can be both a physical hazard and can run up your light bill? The subject of this review is something you may want to consider for your home.
Presentation
Especially in homes with very young children, the elderly, and those with less than ideal eyesight, the placement of guide lights in key locations to help them navigate through spaces easily – and safely – in the middle of the night
However, properly installing items like sconces or recessed lighting takes a significant amount of time, a certain level of inconvenience, and considerable cost. But a unique product from a company called SnapPower may just offer a great solution to this issue – and it's called the SnapPower GuideLight.
What is a Snap Power GuideLight?
Simple, safe, and convenient – these are the three primary qualities of the SnapPower GuideLight.
Technically, each SnapPower GuideLight is an outlet cover plate with three motion sensor-activated LED night lights across the bottom. It can be installed just about anywhere you have electrical outlets and does not require batteries or wires to work.
The keen thing about each SnapPower GuideLight is that it snaps onto your electrical outlets in seconds, keeping any structural inconvenience at a bare minimum and, since it lights up on its own without needing to connect to a power source through a plug, you can free up outlets for other uses in the home.
As a guide light, it keeps people from having accidental trips or falls in the dark as they light up when you walk through and switch off a short while later, making them energy-efficient, as well.
---
Features
The SnapPower GuideLight's key features include:
Snap-on design allows for totally easy installation in bare seconds;
Long-lasting LED bulb strip;
Automatic On/Off switch that is motion-activated;
Softly diffused lights that allow for a clear view at night but not so glaring as to jar a person; and
Multiple Snappower outlet configurations to suit the needs of individual users.
---
How to use it?
To install the SnapPower GuideLight:
Switch off the power to the outlet that you want to cover with a SnapPower GuideLight;
Unscrew and remove the existing outlet cover;
Snap on the SnapPower GuideLight over the outlet, ensuring that it locks on securely;
Securely screw it into place – and your GuideLight is ready to use.
You don't have to turn it on, as the sensor will detect movement and automatically switch the LED strip light on.
---
Benefits and Advantages
The benefits of installing SnapPower GuideLights in your home include the following:
Enhanced nighttime safety especially for very young children, the physically or visually impaired, and the elderly;
Easy installation takes a great deal of stress and inconvenience out of the equation;
They're more energy-efficient and cost-efficient than more conventional night lights; and
They are considerably safer than the sort of night lights that you have to plug into as there is no danger of them getting knocked out of the socket and even less as a potential fire hazard.
---
Users' Snappower Guidelight Reviews
"I needed a way to find my way to the bathroom at night without being blinded by turning on the actual lights. These SnapPower GridLights are perfect! There were so easy to install. You literally just replace your existing outlet cover with a single screw. They have a really innovative way of drawing power from the outlet itself by clamping onto the screws that are located in the middle of the outlet itself. Once installed, they are super attractive. Just enough light to find your way, but not so much that it feels like you left the lights on."

Daniel C.
"The SnapPower GuideLight is a really good idea if you are an elderly person like myself and need to light up a hallway – especially if it is an exit path. I installed three of these in ten minutes. I think I will buy more because they are very sleek unlike plug-in nightlights that you need to yank out if you need the outlet."

Gerald M.
"The SnapPower GuideLight is a great instant night light. Do you own and operate an AirBnB and have a weird dark hallway? This is perfect – an instant nightlight that doesn't look childish."

Megan M.
---
Snap Power GuideLight Price (Discounted)
Individual purchases can be made of the Snap Power GuideLight or Snappower Guidelight 2 Plus.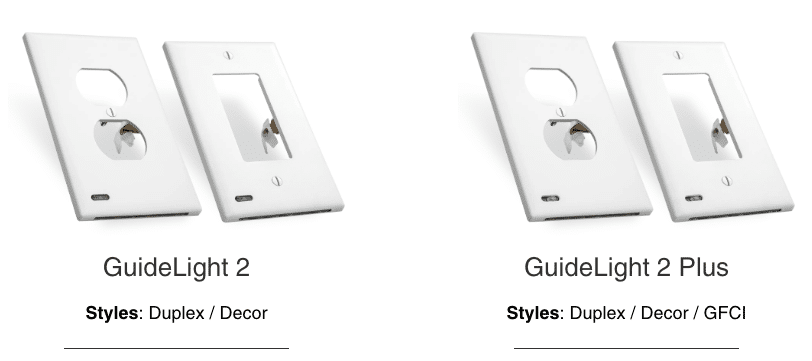 Pricing options
Discounted rates apply for multiple items in a single purchase. Bundle prices are as follows:
Money-back guarantee
If you aren't satisfied with your purchase, you can return your SnapPower GuideLight 2 for outlets back within 30 days after delivery. Note, however, that you need to pay to ship the item back.
Where to buy?
We recommend buying the Snappower Night Light only from the official website.
We recommend avoiding any reseller stores on Amazon, eBay, Facebook Marketplace, also for any possible refund policy issues.
---
Conclusion to our SnapPower GuideLight Reviews
Now, to wrap up our Snappower Guidelight reviews;
What is it best for?
Just about anywhere: homes, offices, and hotels.
What is it not best for?
Probably won't work for larger areas or places where, for security reasons, need a certain level of full-time illumination even in the dead of night.
SnapPower GuideLight Alternatives
They aren't snap-on, but they're unbeatable when it comes to motion sensor lighting: Maz-Tek plug-ins work just fine.
SnapPower GuideLight Review Final Word
SnapPower Guidelights are a great product to have in your home as these give you enough illumination to make your way through the darkness without having to grope around looking for a light switch. We highly recommend that you try this night light with a money-back guarantee!
As with all of our reviews, this is meant to help potential customers make informed decisions prior to making a purchase. In this case, we recommend you shop around and see what options best suit your purposes.
---
FAQ
Does installing a SnapPower Guidelight still require batteries or wiring?
No, all you need to do is snap and screw it on – and you're done!
How long do these guidelights last?
You can use them for up to 25 years.
---
That's all for now:
If you've read all the way through this Snappower Guide Light reviews, we are grateful. Hopefully, you now know the features, as well as pros and cons of this amazing product! We have a large collection of articles, guides, and comparison reviews of gadgets, consumer products, and others! Feel free to check them out;