⏳ Are you in a hurry? Then here's your short EyeQue Review summary:
Quick Summary
The EyeQue VisionCheck is a portable diagnostic device for eye health that can easily be used with one's mobile phone.
Usability

Reliability

Value for Money
Pros
Portable and can be comfortably used at home;
Offers excellent range of accuracy;
Compatible with both iOS and Android devices
Cons
Can take time to set up;
Range of accuracy  is somewhat limited;
Not recommended for those with serious eye conditions
Introduction to our EyeQue Review
Welcome to our EyeQue review!
At one point or another in our lives, we find ourselves needing prescription eyeglasses or contact lenses for a whole gamut of conditions, including myopia [nearsightedness] or the sort of colorblindness that prevents us from getting meaningful employment. Unfortunately, not many of us are able to get the corrective lenses we need due to the cost of diagnostics.
In today's EyeQue review, we'll see how this app-driven solution helps individuals make accurate diagnoses that can help them get the visual aids that they need to live a better life.
Presentation
If you've signed up for an HMO or if your company offers a bevy of health and diagnostic benefits, you've enjoyed the benefit of getting your eyes checked as part of your annual or quarterly physical.
But for most people, proper diagnostics are well beyond their financial capabilities so they tend to leave their conditions alone (and risk making them worse) or head to a healthcare professional only when they deem it seriously necessary.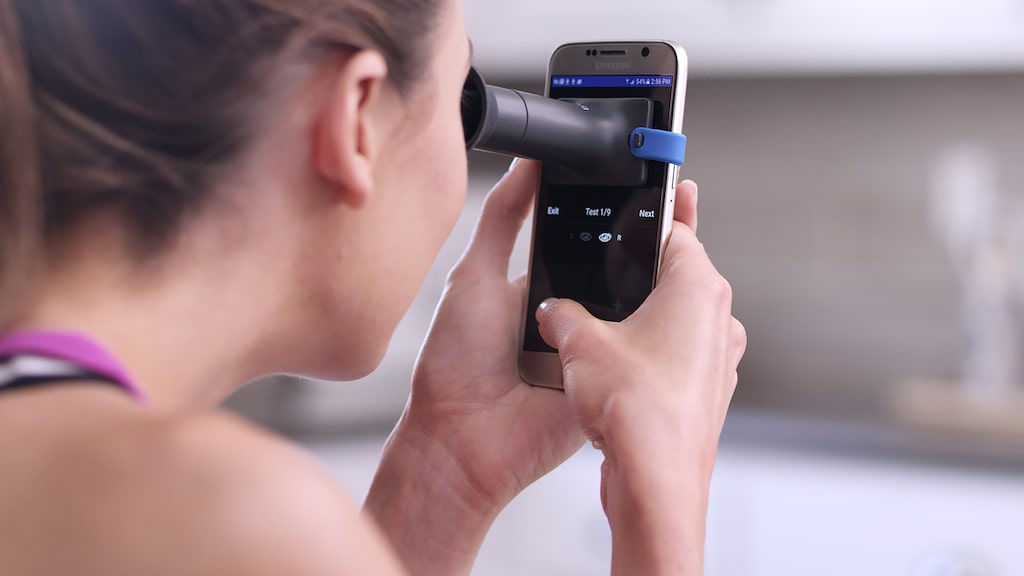 Today's EyeQue VisionCheck review will show that proper diagnostics need not cost an arm and a leg, and they can be done at your own convenience.
What is an EyeQue Test?
The EyeQue VisionCheck is a portable diagnostic device for eye health that can easily be used with one's mobile phone. Built using state of the art diagnostic imaging technology, it can be used to check for nearsightedness, astigmatism, and farsightedness.
Unlike conventional visual diagnostic tools, it is portable, can be used in the comfort of your own home, and has the added virtue of being easy to sync with your mobile device.
The EyeQue VisionCheck (and all the products in the EyeQue line, including the much-touted EyeQue color blind test feature built into its Insight model) uses technology developed at and patented by the Massachusetts Institute of Technology (MIT) to achieve results close to those you can get at an optometrist's or ophthalmologist's office.
---
Features
Key features of the EyeQue VisionCheck are as follows:
Vision correction powers in the same diagnostic format as conventional visual measurement tools found in professional eye care centers, thus enabling users to get fairly accurate EyeGlass Numbers;
PDCheck Glasses to accurately gauge one's pupillary distance to the nearest millimeter to ensure that new glasses fit perfectly;
NV-ADD age-based measurement for proper reading glasses; and
Optional custom EyeQue Try-On frames to see how you'll look with glasses made to spec with your EyeGlass Numbers.
Other than EyeQue VisionCheck, there is EyeQue Insight, its diagnostic tool that can detect colorblindness.
---
How to use it?
The process for using the EyeQue VisionCheck ophthalmic refractometer is as follows:
Download the EyeQue VisionCheck app through either the Apple App Store or Google Play. You may also choose to download it by scanning the QR code in the user's manual with your mobile device;
Launch the app and register to activate it;
Turn on the device by pressing the power button down for three seconds. It will turn blue to indicate that you can pair the device with your phone;
Pair the VisionCheck with your phone via Bluetooth;
Open the VisionCheck app on your phone and select TEST. The app will then look for the paired device within a 30-second timeframe;
Once the app finds the device, it will display its name and you may select it;
Upon selection, select CONTINUE to begin your visual test;
Attach the device within the dotted line displayed on your phone screen with the VisionCheck logo facing toward the bottom of the phone and the three touch sensors towards the top. The device should not slide easily once attached to your phone;
Secure the device onto your phone by attaching the silicone elastic band with a snug fit;
Choose NEXT on the app screen and select whether you will be taking the test with or without glasses or contact lenses and if your phone has a screen protector;
Place your elbows on a flat surface to hold your phone as steady as possible;
Hold your phone at reading distance, then slowly move it closer until the eye cup of the device touches your right eye. You should see two lines, one red, and one green. Take a few seconds to find these lines. If you do not see them, try gently moving the device left and right, up and down. It takes some practice and this is necessary for getting accurate test results.
Once you see the red and green lines, open and relax your left eye (non-testing eye) during the test. Most people find it helpful to focus the untested eye on a large object at least six feet away;
Tap on touch sensors 1 and 2 on the VisionCheck device and overlap the red and green lines completely to form one solid yellow line. The VisionCheck will vibrate gently when you tap the touch sensors. Holding touch sensors 1 and 2 for a longer period of time, also known as "long press," will result in quicker movement of the lines;
Once you are satisfied that the lines are overlapped, touch and hold touch sensor 3 ("Next") for two seconds on the device;
Continue looking into the device. The red and green lines will be rotated to a different angle. Overlap them as you've done for the previous test; touch and hold the "Next" touch sensor for two seconds when you see one solid yellow line;
Continue and complete all nine measurements for your right eye and then the nine measurements for your left eye. Follow the voice prompts.
We recommend that you save the test results to get a standing record of your visual acuity.
---
Benefits and Advantages
The benefits of using the EyeQue VisionCheck include the following:
It offers a more cost-effective and safer way to check your visual acuity without needing to pay for more expensive eye exams or going out of your way to an eye center or ophthalmological clinic;
Doesn't require setting appointments or spending time in clinic waiting rooms;
Accurately captures your pupillary distance to ensure that your new glasses fit well and cause no discomfort;
Gives an accurate measurement for reading glasses based on your age; and
Makes it much easier to get the glasses you need online.
---
Users' EyeQue Reviews
"The EyeQue VisionCheck 2 is fairly easy to use, though it does take a few test runs to get the hang of it. The EyeQue numbers that you receive from the test are accurate as I have already received new glasses which I ordered online using the testing results. Love the option to get the try-on glasses for a low cost, and they allow you to test the EyeQue numbers for accuracy without having to purchase more expensive glasses only to find the prescription isn't correct. Plus, you can use it in an emergency situation if your glasses are broken or lost and it could take time before you could get a new pair."

Kelli W.
"Differentiating between the red and green lines took a little getting used to. But, once I could do that, I proceeded with the test. The try-on prescription was spot on. Thanks for a great product."

Roland M.
"Worked very well for me. EyeQue walks you through the whole process. No problems so far. The people behind it recommended doing three tests for more accuracy, but I did six tests to be safe."

Jason S.
---
EyeQue Pricing (Discounted)
A single unit of the EyeQue VisionCheck 2 will set you back by $49.99, excluding shipping and handling. However, shipping is free within the USA. However, there are plenty EyeQue coupons and EyeQue discount codes you can use to reduce costs.
Pricing options
For even better value, we recommend getting more than one unit of the EyeQue VisionCheck 2, prices below:
Money-back guarantee
EyeQue offers a 30-day money-back guarantee, along with a one-year service warranty for all its products.
Where to Buy?
For authenticity and to avail the best discounts, we recommend buying any and all EyeQue products only through the official retail site. Best to avoid any reseller sites, like with Amazon, for refund policy issues.
---
Conclusion to our EyeQue Review
If you don't have the time to make your way to your optometrist or healthcare practitioner, the EyeQue gives a fairly accurate way to check on your visual health without the hassle of leaving home and paying for a quick diagnostic.
However, we do need to make it clear that its manufacturer does not recommend it as a straight-up replacement for standard eye testing.
What is it best for?
The EyeQue VisionCheck is best used by adults, particularly those with a single vision prescription and whose visual cylinder is between 0 and -5.0.
What is it not best for?
Use of the device is not recommended for those with eye infections, epileptics, and those suffering from the following eye conditions:
Diabetic retinopathy;
Age-related macular degeneration;
Macular edema;
Cataracts; and
Severe color blindness.
EyeQue Alternatives
Take it from the professionals: the only thing better than the EyeQue would be to go in for a visual exam with your physician of choice.
EyeQue Review Final Word
As with all our reviews, our EyeQue Review is meant to help potential customers make informed decisions before a purchase. But we highly recommend that you take advantage of this product and try it.
However, if you're not impressed, we recommend shopping around for solutions that work best for you.
---
FAQ
Can the EyeQue VisionCheck detect color blindness?
No, that would be the point of specialization for another EyeQue diagnostic tool, the Insight. The VisionCheck only works for nearsightedness, farsightedness, and astigmatism.
What's the effective range for the EyeQue VisionCheck?
The device works best on those whose visual prescription ranges between +8.0 and -10.0, with a visual cylinder between 0 and -5.0.
---
That's all for now:
If you've read all the way through this EyeQue Review, we are grateful. Hopefully, you now know the features, as well as pros and cons of this amazing product! We have a large collection of articles, guides, and comparison reviews of gadgets, consumer products, and others! Feel free to check them out;