⏳ Are you in a hurry? Then here's your short Autel Evo Lite review summary:
Product Name: Autel Evo Lite
Product Description: The Autel Evo Lite is the world's first quad-axis camera drone, making it the very first to shoot in vertical layout - an advantage for content creators who share via mobile on the leading social media applications.
Availability: LimitedAvailability
Personal Experience Summary
Embarking on drone adventures with the Autel Evo Lite has been an absolute thrill! Its sleek design and nimble controls make every flight a joyride. The camera's prowess turns ordinary landscapes into cinematic masterpieces, and the 40-minute flight time feels like an endless exploration. Navigating through a variety of landscapes, from serene parks to bustling cityscapes, showcases the drone's versatility.
The ease of use, coupled with the robust build, instills confidence in every takeoff. It's not just a drone; it's a winged companion turning ordinary moments into extraordinary memories, capturing the world from a whole new perspective!
Usability

Reliability

Value for Money
Pros
Vertical orientation shoots are a snap and don't require additional software;
Longer battery life means you can shoot and fly for longer;
Amazing clarity in terms of both still and moving footage;
Ultimate flexibility thanks to four cinematic shoot modes, as well as three flight modes
Cons
A greater learning curve compared to most drones in its class;
One of the pricier standalone drone options;
Not recommended for beginners
Introduction to our Autel Evo Lite Review
Welcome to our Autel Evo Lite review!
In retail parlance, the term lite often refers to a scaled-down edition of a standard product, or one modified to suit any number of reasons from dietary restrictions in the case of lite food products which eschew fat and sugar, to lite editions of mobile electronics which present a modified edition of a smartphone or tablet in a smaller case that is more convenient to carry but retains much of the original's functionality.
With regard to that second definition in retail, lite certainly doesn't mean a product's primary qualities get scaled or tapered down. Indeed, some people note that the "lightened" version of a gadget, be it a phone or even a drone, is actually better than the original or primary edition.
So, is that the case with the Autel Evo Lite quad-axis drone? That remains to be seen in today's Autel Evo Lite review.
Presentation
The most common type of drone currently available globally follows a tri-axis format or configuration. This means that a camera drone is equipped with a gimbal with three axes to keep the camera stable while filming on the move.
For the most part, the three axes are:
Yaw or Pan which is set beneath the drone camera, allowing it to move to the right or left while in action. This axis is meant to shoot and follow people or objects moving horizontally;
Pitch or Tilt moves in the opposite manner, which is to say it goes up and down rather than sideways. This vertically-oriented axis is used to capture falling movement or if the subject is heading upwards, as in the case of following someone up a flight of stairs; and
Roll which also moves horizontally, but is specifically meant to keep the camera focused on a moving target regardless of which direction it moves in. That said, the roll axis can be used to make adjustments to a shot even as the subject moves forward or backward.
But there are cases where, for even greater stabilization, both gimbal makers and drone developers choose to add a fourth axis to the configuration. In the case of drones, specifically Autel Robotics drones, this is referred to as the rotation axis which operates within the drone gimbal.
Here, the imaging frame may be rotated via exterior controls to a vertical position that enables a shooting mode perfect for social media given its orientation. That fourth axis allows users to do this without resorting to a third-party editing program or app to reformat the footage for Instagram, TikTok, or even one's blog.
Autel Robotics debuted this feature when it introduced the Autel Evo Lite in April of last year, and it is a feature that has made all the difference when it comes to using drones to shoot for online content.
What is an Autel Evo Lite?
Launched in April 2022, the Autel Evo Lite is the world's first quad-axis camera drone, making it the very first to shoot in vertical layout – an advantage for content creators who share via mobile on the leading social media applications. Plus, it makes photo or video editing much easier.
With a standard single-charge battery time of up to 40 minutes, it stays in the air longer than most drones in its class, clocking up to 30% more flight time than the likes of DJI.
Now, lets kick off our Autel Evo Lite review!
---
Features
The first thing we consider in our Autel Evo Lite review are its features: The Autel Evo Lite's key features include the following:
Autel's powerful SkyLink video and image transmission system which transmits within a wide-ranging 7.4-mile radius with quality clocking in at 2.7K / 30 frames per second, aided by best-level anti-interference features to relay amazingly clear footage;
Superior ultra wide-angle obstacle avoidance thanks to highly sensitive sensors that give the drone a front view of up to 150 degrees with less blind spots than most of the drones in the same category;
Dynamic Track 2.1 system to keep the drone's focus on a particular moving subject without wavering, shaking, or veering off its course to ensure smooth movement that's practically cinema-grade;
SkyPortrait mode which lets you take group photos with the drone, ensuring that no one is left out of frame without blurring;
Superior HDR to give both stills and videos more visual depth, contrast, and dynamic range;
A highly sensitive 50-megapixel camera with a 1/1.28-inch CMOS sensor that lets you take spectacular footage no matter what time of day or how wild the weather gets; and
Four cinematic shooting modes for the ultimate in visual impact.
---
How to use it?
Next up on our Autel Evo Lite review, how do you use it?
The initial procedures for the Autel Evo Lite are pretty much the same as a drone we previously reviewed which is part of the same series, the Autel Evo Lite+. Nevertheless, as we are discussing a completely separate device, a review of the procedure is necessary.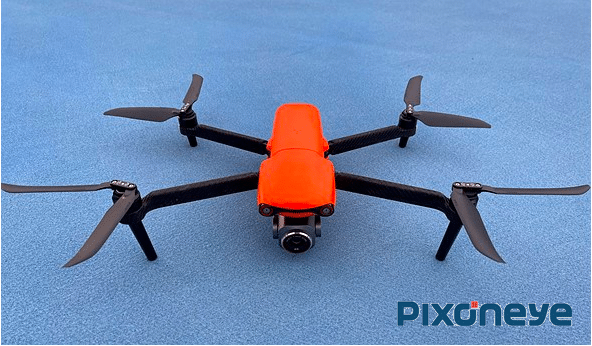 Pro tip: well before you set your Autel Evo Lite for initial use, make it a point to have all the necessary peripherals in place; otherwise, you will be setting yourself up for trouble. These include the controller application for your device which needs to be installed into a mobile phone or tablet, the battery which needs to be fully charged upon insertion into the drone, and the external memory (SD card) slotted into place within the drone as the internal memory can only do so much.
Preparatory Procedure:
Install Autel Sky into the phone or tablet you intend to use as a control device for the drone. While this can be done through mobile web via the Autel Robotics site, you may also download the application from Google Play for Android and the Apple App Store for iOS devices. (Note: At the time we did this review, Autel Robotics had yet to include the Huawei Gallery and the Oppo App Marketplace to its list of areas where one can download their control application.)
Ensure that the Autel Sky App is properly installed in your device. Do not assume that, just because the drone comes with a separate controller, you can work without it. Contrary to that assumption, Autel Sky is what you need to enable real-time image transmission between the drone and the mobile device, as well as the primary control for the drone in both flight and production mode.
Device Setup Procedure:
Insert an SD card into the correct place in the deactivated / switched-off drone to serve as its primary memory storage slot;
Charge the drone before use. Prior to first use, this will take at least 90 minutes for a full charge;
Install the propellers into their corresponding motors, ensuring that they are locked in place;
Switch the drone on;
Through the app on your device, select your flight modes from Standard, Ludicrous, and Smooth:

Standard which uses the GPS module and the downward vision system to ensure accurate hovering and flight steadiness, while also enabling the camera-craft's quick-shot function. In this mode, maximum flight speed is pegged at 10 meters a second;
Ludicrous also uses the same GPS module and downward vision system, but the maximum flight speed goes up to 18 meters per second with a maximum rising speed of five meters per second. Descent speed in this mode goes up to four meters per second; and
Smooth mode which limits the standard flight speed down to just five meters a second, rising speed to three meters a second, and descent to just two meters a second to ensure that the drone remains steady and stable throughout a shoot.

Choose your shoot mode of choice in the Autel Sky app, adjusting settings as you go.
You may choose to fly the drone back manually, or activate the Auto-return function prior to letting it fly.
---
Benefits and Advantages
Now, moving on with our Autel Evo Lite review, much like its fellow line-mate the Lite+, the Autel Evo Lite delivers on the following benefits for its users:
Gorgeously clear and sharp imagery regardless of weather conditions or even the time of day;
Mobile controls via app are available for both Android and Apple devices, making it a more convenient – and logical – choice compared to drones that are focused on a single mobile operating system;
Greater battery life on a single charge means you can fly faster, farther, and longer, and have more time to frame and capture the perfect shot;
State-of-the-art subject tracking system keeps whatever or whoever you're shooting in focus regardless of any changes of direction and enables you to make the necessary adjustments on the fly without compromising image or recording quality;
The rotation axis makes it possible to shoot vertical-format videos for your favorite social media platforms without having to run your footage through an editing program before posting;
Considering its compact size, it offers the widest range of flight and shoot options of any drone currently available; and
Cinematic shooting modes ensure that your shots are clean, stable, stunning, and professional.
The drone's stable flight performance is another notable advantage. Users appreciate its reliability, ease of control, and smooth maneuverability, creating a positive flying experience for both beginners and seasoned pilots. The compact design of the Autel Evo Lite enhances portability, making it convenient for on-the-go adventures.
Moreover, in our Autel Evo Lite review, Autel's commitment to customer service is a significant advantage, with users praising the company's responsive and effective support in addressing technical queries and troubleshooting. The durable build of the drone, coupled with reliable components, contributes to its longevity, ensuring users can enjoy their investment over an extended period.
The Autel Evo Lite's user-friendly interface and intuitive controls add to its appeal, reducing the learning curve for new users while offering advanced features for those seeking more sophisticated functionalities. Overall, the Autel Evo Lite drone stands out for its blend of cutting-edge technology, reliable performance, and customer-centric approach, making it a top choice in the competitive drone market.
---
Users' Reviews
For our Autel Evo Lite review, read what users say about this drone.
"Set up is easy using the app and all the controls are pretty intuitive even for the less experienced. Things to mention…it will be in beginner mode automatically when you first use it making it slow and you can go to Smooth, Standard, and the fastest mode Ludicrous which claims to go over 40mph (though, in practice, I managed to get 34mph in windy conditions.) The Evo Lite has a great with a variable aperture. I noticed that effective distance depends on area."

Mira D.
"I managed to get well over a mile before any loss of picture, and this was done with mostly trees with some residential structures; still very impressive in my book. I was impressed by Autel Evo Lite reviews I read. I couldn't hit the 40-minute flight time, but managed a 38 or so minute run with winds and varied flight speeds, still with good results. I also liked the night mode for capturing better low-light images, the intuitive app and controller, and how the extra weight makes it more stable in the wind."

Heath B.
"Thank goodness I read Autel Evo Lite review! When you finally figure out how to get the thing airborne it flies very well. It's stable and has all types of features to prevent you from flying into things like houses or trees. If you switch it to Ludicrous mode, it basically lets you do whatever. I don't recommend doing that unless you got some mad flying skills, though. The drone is powerful and stable and it has some insane control and video range, but it could do with some better information about the drone itself and the operation. Overall this is a very good drone for an intermediate user."

Michael C.
"This drone is on par if not better than the DJI drone it competes with which is the DJI Air 2S. The gamer style controller feels familiar if you have played video games. It's a very high quality controller and easy to program. YES you need to register this drone because it exceeds the 250 gram weight. Yes, this has Remote ID built in, so it will comply with FAA rules and regulations. The camera says it is 6K, but really it is actually 5.4K quality which is still excellent!"

Shiela R.
"Like what Autel Evo Lite reviews say, the app is easy to navigate, it's meant for use with both Android and Apple, and there is a tutorial that will walk you through all of the features. This standard kit gives you just about everything you need to get started except for a storage bag and an SD card. This does have some built in storage, but you will need an SD card. Battery life is about 30 or minutes on average. The time it takes to connect to the controller and app is much faster than my DJI."

Vine V.
Reddit Autel Evo Lite Reviews Summary
Reddit Autel Evo Lite reviews highlight a mix of positive and critical sentiments, offering a comprehensive perspective. Users commend its impressive camera capabilities, noting the high-quality aerial footage and the convenience of adjustable settings. The drone's robust build and reliable flight performance receive praise, making it suitable for both beginners and experienced flyers.
However, some users express concerns about the drone's price point, suggesting it might be on the higher side compared to competitors. Additionally, a few mention issues with firmware updates, emphasizing the importance of timely and effective software improvements.
On the positive side, Redditors appreciate Autel's customer service, citing responsive assistance in addressing technical queries and troubleshooting. The compact design and portability of the Autel Evo Lite also earn positive mentions, making it a convenient choice for on-the-go drone enthusiasts.
Therefore, the Autel Evo Lite drone garners favorable reviews for its camera capabilities, build quality, and customer support. While the price and occasional firmware challenges are noted, the overall consensus leans towards a reliable and feature-rich drone, appealing to a broad range of users. As always, individual experiences may vary, and prospective buyers are encouraged to consider their specific needs and preferences.
TrustPilot Autel Evo Lite Reviews Summary
Trustpilot reviews for the Autel Evo Lite drone present a diverse range of opinions, contributing to an overall mixed but informative assessment. Positive feedback emphasizes the drone's exceptional camera quality, capturing stunning aerial footage and providing users with a satisfying photography and videography experience. Many users also commend the drone's stable flight performance, making it a reliable choice for both enthusiasts and professionals.
However, some negative Autel Evo Lite reviews highlight concerns regarding the durability of certain components, with a few users reporting issues with propellers or other parts after extended use. Some customers express frustration with the drone's software, citing occasional glitches and difficulties in updating firmware.
On a positive note, Autel's customer service receives acknowledgment for prompt responses and effective solutions to technical problems. The compact design and user-friendly controls of the Autel Evo Lite also receive positive mentions, catering to a broad audience.
In summary, Trustpilot review Autel Evo Lite underscore the Autel Evo Lite's strengths in camera capabilities and flight performance but note potential durability and software concerns. As with any product, individual experiences vary, and prospective buyers are advised to consider their specific needs and weigh both positive and negative feedback when making a purchase decision.
---
Customer Service Experience
The customer service for the Autel Evo Lite drone has received generally positive feedback from users. Numerous customers express satisfaction with the responsiveness and helpfulness of Autel's support team. Many highlight the prompt resolution of technical queries and troubleshooting assistance, creating a positive experience for users encountering challenges.
Several users commend Autel for going above and beyond in addressing warranty claims and providing timely replacements or repairs for defective components. The company's commitment to ensuring customer satisfaction reflects in its willingness to assist users in navigating any issues that may arise during the drone's operation.
Positive interactions with Autel's customer service also extend to inquiries about software updates, with users noting effective communication and guidance in the process of keeping their drones up to date.
As mentioned in Evo Lite review Autel, while there are occasional mentions of delays in response time or communication hiccups, the overall sentiment regarding Autel's customer service is favorable. This positive aspect contributes to enhancing the overall user experience with the Autel Evo Lite drone, assuring customers that they have reliable support in case of any issues or questions that may arise during their drone ownership journey.
---
Autel Evo Lite Price
Currently offered at 47% off its standard price, the Autel Evo Light will cost you $949.00, excluding taxes and shipping fees. You can also opt to purchase the Autel Evo Lite Premium bundle.
Pricing options
If you want to get the most out of your drone Autel Evo Lite, we recommend purchasing an Autel Robotics Care extended warranty card. For just $139.00, having this adds the following benefits:
Quick repair and replacement services;
Replacement services one can avail of up to twice in a year;
Water damage coverage;
Owner's protection in the event of a drone flyaway; and
One's choice of coverage of between one and two years.
Money-back guarantee
Unfortunately, Autel Lite's money-back guarantee only applies to unused and unopened merchandise. To avail of a refund, products need to be returned to the manufacturer within 30 days of delivery.
Note that the cost of sending items back needs to be shouldered by the customer.
Refund Policy
The refund policy assures customers a full refund within 30 days if dissatisfied.
Warranty
The warranty provides coverage for a defined duration, safeguarding against defects or malfunctions.
Shipping
Shipping is free for orders above $59 and inquiries are typically prompt, ensuring timely delivery, with tracking options for customer convenience.
Return Policy
The return policy allows for hassle-free returns within 30 days, accommodating instances where customers wish to return or exchange their purchase. These comprehensive policies collectively contribute to a positive buying experience, assuring customers of product quality, timely delivery, and recourse options if needed.
Where to buy?
At the time we conducted our review, the Autel Evo Lite drone was currently out of stock but you can purchase the Premium bundle instead. That said, the best place to get one is directly from the official product page.
---
Conclusion to our Autel Evo Lite Review
What is it best for?
Much like other drones in the Autel Evo Lite series, this is a device that would work best in the hands of a professional photographer or videographer, as well as drone pilots with a greater amount of experience.
What is it not best for?
Given how complex this device can be to set up and use, this is not recommended for beginners or even those who have just a few working hours when it comes to drone flying. This is well above their working skillset.
Autel Evo Lite Alternatives
Frankly, any device in Autel Robotics' Evo line is an excellent alternative. But, if you're a professional who needs a device that can do heavy-duty work along with you, then we would recommend the Autel Evo Lite Plus. You can also check the DJI product range:
Autel Evo Lite Review Final Word
Autel may not be a familiar brand to those who have been using drones for a while, but we note how its products have easily left counterpart devices from its biggest competitors in the dust. Most of the time, we tend to dismiss light or lite items as drab or even insipid editions of an original. But the Autel Evo Lite flies in the face of this reality, offering a powerful drone camera experience on a professional level in a more compact device.
---
FAQ
What's the difference between the Lite and the Lite+?
While both belong to the same line, the Lite is a more powerful device for still photography with a 50-megapixel resolution compared to just 20 megapixels on the Lite+, and even for videography thanks to its 4k / 60 frames a second video. Also, let's not discount the Lite's four-axis configuration which gives it greater stability compared to the Lite+.
Can I program my drone for a one-key return with an Evo Lite?
Yes, to use the one-key return function, simply set the return altitude and be mindful of the surroundings to prevent any accidents.
Do I need to use a software program to convert any videos shot with the Evo Lite to a vertical orientation?
No, as vertical screen imaging is already supported in the Evo Lite by way of gimbal rotation.
What is the range of Autel Evo Lite?
This advanced system provides an impressive transmission range of 7.4 miles, delivers exceptional transmission quality at 2.7K/30FPS, and boasts superior anti-interference capabilities. Throughout, it ensures the relay of breathtaking HD video, offering an enhanced and immersive drone flying experience.
Is Autel drones better than DJI?
DJI is widely recognized for its extensive product range, innovation, and market dominance. DJI drones often feature advanced technology, superior camera capabilities, and a well-established ecosystem. They are popular for consumer and professional use, offering various options catering to different needs.
Autel, on the other hand, has gained recognition for producing drones with competitive features, often at a slightly lower price point. Autel drones are praised for their build quality, camera capabilities, and user-friendly interfaces.
What is the wind rating of Autel Evo Lite?
The Autel Robotics LITE Series is a compact yet potent drone designed for up to 40 minutes of flight, covering a maximum distance of 7 miles. Featuring the world's pioneering 4-Axis gimbal, this drone offers a stable flight experience, even in winds ranging from 32 to 38mph (class 7).
---
That's all for now;
If you've read all the way through this Autel Evo Lite review, we are grateful. We have reviewed all these products in detail, feel free to check them out;