⏳ In a hurry? Here's your The Chill Pill Reviews snapshot:
Usability

Reliability

Value for Money
Quick Summary
The Chill Pill is a small, handheld device that works on the principle of electrotherapeutic stimulation: it emits electronic pulses at regular intervals in order to relax an individual's mind, thus reducing anxiety and helping them sleep better.
Pros
Improves sleep quality without harmful side effects;
Power-efficient as it can run for 20 hours on a single charge;
Can be used to alleviate anxiety and panic attacks
Cons
May not be effective on those with insomnia resulting from medical conditions;
May not be effective in alleviating symptoms for those with severe anxiety or panic disorder;
Can be too expensive for most people
Introduction to our The Chill Pill Reviews
Welcome to our The Chill Pill reviews!
In these unsettled days, sleeplessness and anxiety are two psychosomatic (and potentially physically debilitating) conditions which could severely reduce one's productivity, physical energy, and congeniality.
Over the years, a number of solutions have been prescribed (or vetoed) by healthcare professionals to help patients sleep better, get more rest, and feel calmer. However, many of these are pharmaceutical products that could have lasting side effects on the health of a patient.
In which case, many people suffering from insomnia and anxiety disorders seek out safer alternatives to help them get more restful sleep and adequate rest. For this reason, today's review will focus on an innovative device known simply as the Chill Pill.
Presentation
The Chill Pill is one of many available solutions that rely on modalities like biofeedback and safe exposure to radio frequencies in order to relax the body and ease the mind, thus inducing a more restful state for an individual.
Unlike antianxiolytics, soporifics, and even SSRIs prescribed to people, these have little to no side effects and may be used on a regular basis. However, the efficacy of these devices has been called into question and potential customers may find themselves puzzling over which one actually works.
In today's Chill Pill review, we'll see whether this handy little device actually passes muster as an aid for insomnia and anxiety.
What is The Chill Pill?
Despite its name, the Chill Pill is not a medical preparation. It's actually a small, handheld device that works on the principle of electrotherapeutic stimulation: it emits electronic pulses at regular intervals in order to relax an individual's mind, thus reducing anxiety and helping them sleep better.
By simply holding the Chill Pill in your hand or pressing it against your pressure points, one can almost immediately stop feeling shaky or jittery from anxiety, and thus be able to relax. At night, it also helps ease both mind and body in preparation for a good night's sleep.
---
Features
Each Chill Pill is crafted using ABS-certified stainless steel wrapped in durable silicone, making the item both non-toxic and safe for use by people of all ages. Its visible surfaces are hypoallergenic, ensuring that they can be held safely for prolonged periods of time without irritating the skin.
The Chill Pill comes with its own carrying strap as well as a USB cable for powering its internal 500mAh lithium-ion battery.
Its primary feature is its non-ingestible, non-invasive, and non-habit-forming Sleep Aid Technology which makes it effective when it comes to relaxing the body and preparing it for slumber.
Built-in electrotherapy pulse stimulation technology enables users to optimize their sleep patterns, inducing deep REM sleep night after night.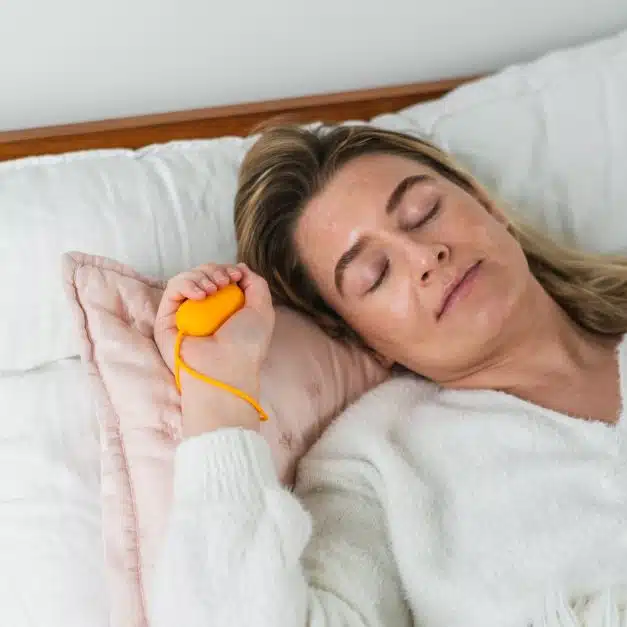 ---
How to Use It?
Getting Started
Charge the device using its USB charging port and cable. This may take up to an hour to hit 100% power but the device will run for 20 hours on a single charge;
Locate the three side buttons and hold the middle button down until it glows, indicating that you have switched the device on;
Adjust the pulsation by clicking the power button once to switch between fast and slow pulsing, then clicking either the + or – buttons to raise or lower the intensity
Loosen or tighten your grip on the device until you're comfortable holding it;
The device automatically switches off after 20 minutes, but to turn it off manually, hold the middle button down until it stops glowing, indicating you've shut it down.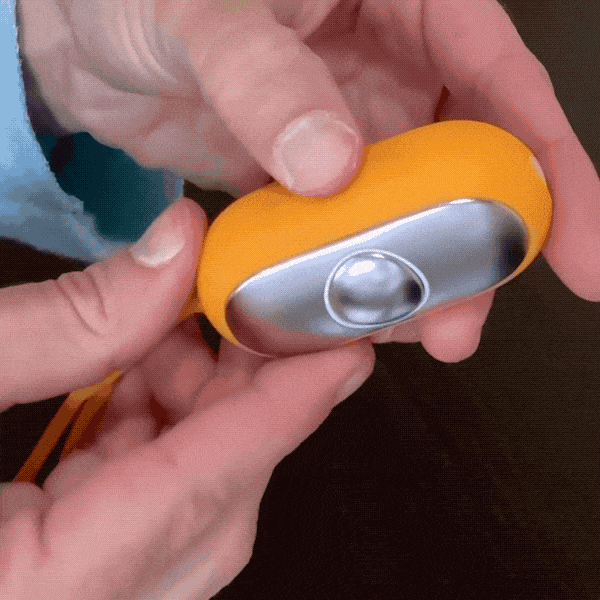 To Relieve Insomnia
When you're ready for bed, hold the Chill Pill vibrating sleep device in your left hand, putting the pulsation on a slow and comfortable setting, and grip it for 20 minutes, allowing it to shut down. Switch to your right hand, turn the device on, and let it run for another 20 minute cycle. Note that you may get drowsy after just one cycle.
For Sudden Panic Attacks
Adjust the Chill Pill sleep aid device to a higher and stronger pulse rate and use it to massage key pressure points such as the lower back of the neck, inside of the wrist, top of the palm, and front of the thigh until your breathing feels less labored and you feel calmer and more grounded.
For Generalized Anxiety Disorder
Set the pulsation to a moderate frequency, then hold the Chill Pill in your hand for 20 minutes until its cycle ends. Shift the device between your hands, letting it run for 20-minute cycles until you feel your anxiety dwindling and your mind calmer and more refreshed.
---
Benefits and Advantages
The benefits of the Chill Pill include the following:
Stress reduction
Does the Chill Pill work? Yes, it does. It significantly reduces stress and calms both the mind and body, thus inducing more refreshing sleep, enhances memory retention, and improves one's emotional stability;
Safe and non-toxic
Safer than conventional medical solutions as it has no toxic side effects on either the body or the mind and is made with safe, hypoallergenic materials to prevent irritating skin from prolonged contact. Therefore, expect no Chill Pill reviews side effects.
Energy-efficient
Can run for 20 hours on a single charge – and it only takes an hour to get your power up from 0 to 100%; and
Highly portable
Highly portable and discreetly sized; It's light enough to carry anywhere and you can even wear it on your wrist to keep you from panicking or feeling anxious whenever you need to go out or be at work. This also makes it a great item to tote along to ensure you get a good night's sleep even when you're traveling.
---
Users' The Chill Pill Reviews
So does Chill Pill work? Here's what actual users say:
"I purchased the Chill Pill for my teen who has been struggling with sleep for years and [for whom] nothing worked. This got rid of all the sleep aids, [and] my teen has been sleeping well. They also use it for anxiety during the day. I would totally recommend [it as] my teen swears by it."

Annie C.
"This is the second time I bought one as I gave my first to my friend who was having trouble sleeping. This little device works! It helps me calm down and fall asleep at night. Strongly recommend it if you have any issues with anxiety or with falling asleep."

Issa R.
"I love this item. It has helped me out tremendously. Got another one for my sister after she tried mine first. I love it and definitely recommend this to everyone."

E. Stevens
---
Chill Pill Sleep Aid Pricing (Discounted)
Pricing options
The Chill Pill sleep device will set you back a discounted $49.50 per unit; shipping and handling are free for 2 or more purchases in the mainland United States.
Money-back guarantee
For this The Chill Pill Device reviews, the manufacturer allows for a 60-day money-back guarantee for all customers regardless of location. However, the device must be returned in a brand-new condition and free return postage only applies to US customers.
Where to buy?
Recommended;
To ensure authenticity, buy your Chill Pill sleep device direct from the official Mend Your Mental website.
Other Stores;
Reseller sites, like on Amazon, eBay, Facebook Marketplace, should be avoided for issues with refund policies and non genuine products.
---
Conclusion to our The Chill Pill Reviews
Now to wrap up our Chill Pill Sleep Device reviews;
For those who are desperately seeking sleep or relief from the jitters, the Chill Pill sleep aid may just be the answer they are looking for. However, keep in mind that this may only produce significant results in those with mild insomnia or anxiety.
What is it best for?
People suffering from occasional insomnia, mild bouts of agitation, and milder cases of generalized anxiety disorder. This may also help children with ADHD and women suffering from the psychosomatic symptoms of menopause.
What is it not best for?
Those with insomnia caused by medical conditions like sleep apnea will require more conventional medical intervention to get a good night's sleep. The same applies for those with severe clinical anxiety or those suffering from severe panic attacks.
Chill Pill Sleep Device Alternatives
Mend Your Mental offers a larger device called the Chill Pill 2.0 for those with more severe cases of sleep deficit and agitation.
The Chill Pill Reviews Final Word
As with any item that claims to improve one's health, we recommend that you check with your physician first or test the Chill Pill Sleep device before committing to a purchase. Yet, for this The Chill Pill Device reviews, we recommend that you buy this product and enjoy its 60-day money-back guarantee.
---
FAQ
How long can I use my Chill Pill on a single charge?
The Chill Pill can run for a good 20 hours, provided that it has been properly charged for an hour.
Does using a Chill Pill produce any side effects?
Unlike pharmaceutical preparations, the Chill Pill works on pulse technology which has been proven to have no ill effects on human health.
---
That's all for now:
If you've read all the way through this The Chill Pill Device reviews, we are grateful. Hopefully, you now know the features, as well as pros and cons of this amazing product! We have a large collection of articles, guides, and comparison reviews of gadgets, consumer products, and others! Feel free to check them out;