Muama Ryoko Review
Summary
The Muama Ryoko is a compact and portable high-speed WiFi modem that enables users to stay online even when traveling overseas.
Usability

Reliability

Value for Money
Pros
Can be used in nearly 140 countries;
Long battery life on a single charge;
More cost efficient than paying for a roaming service
Cons
Can be challenging to set up;
Loading speeds still dependent on network congestion;
Not the best choice for casual travelers
Introduction to our Muama Ryoko Reviews
In the digital age, one of the biggest problems many of us have when traveling is connectivity. Not all mobile providers in our home countries offer a roaming data service, so looking for a decent connection with which to receive vital emails or social media updates can be a serious challenge.
Today's Muama Ryoko review will present how this particular device can help those on the move have a stable and clear 4G network connection anywhere in the world.
Presentation
As tempting as it is to consider connecting to public WiFi in a foreign country (or even another state), privacy concerns and the possibility of getting hacked can make people think twice before signing into a network.
However, the alternative can prove to be quite expensive. Rates for roaming services offered by your telco of choice are dependent on how far you are from your home provider and whether or not it has a partnership with a local telecommunications firm. In case of the latter, the cost may be comparable to or equivalent to what you usually pay for your carrier back home. But the quality of service may not necessarily be the same as what you're used to.
In today's Muama Ryoko Portable WiFi reviews, we will see how this portable WiFi device works and whether or not it would be a good alternative to more conventional roaming services.
What is Muama Ryoko?
The Muama Ryoko is a compact and portable high-speed WiFi modem that enables users to stay online even when traveling overseas. It essentially creates a personal WiFi network for a user utilizing 4G LTE technology.
The device works in pretty much the same way as any roaming WiFi hotspot, and can be used to provide connections for any device capable of accessing a wireless network. It can be used in nearly 140 countries and allows users to use the internet without having to pay additional roaming charges.
Likewise, the connection the Muama Ryoko provides is strong, fast, and secure – that way, you need not go through the hassle of setting up a roaming account with your provider or connecting to a potentially unsecured public network.
---
Features
The Muama Ryoko WiFI's key features are as follows:
Easy coverage in 139 countries across the globe;
Steady and constant 4G network access;
Access speed of up to 150Mbps;
Eight hours of battery life on a single charge;
Pre-paid Viota Muama Ryoko SIM card with up to 500MB of data and free of additional roaming data charges; and
Capable of giving internet access to up to ten devices at a time.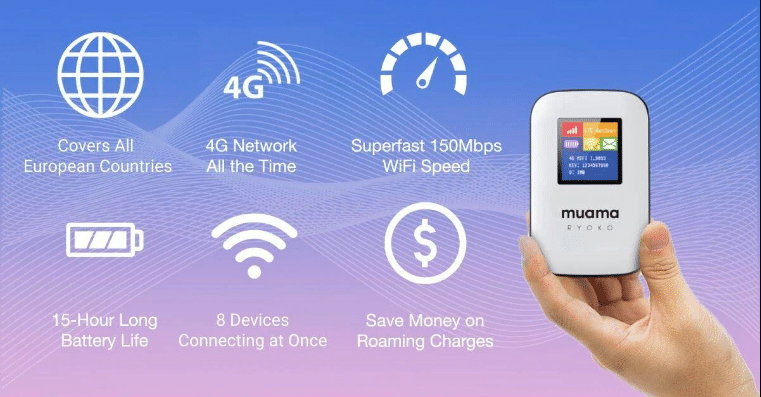 ---
How to use it?
So, if you purchase Muama Ryoko how does it work?
Initially charge your Muama Ryoko router until it hits full capacity;
Insert the Viota SIM card that comes with the router;
Switch the router on;
Using your mobile device or laptop's network access function, connect your device to the Muama Ryoko.
---
Benefits and Advantages
For this Muama Ryoko portable WiFi reviews, the advantages of using the Muama Ryoko router are as follows:
Works virtually anywhere in the world;
Provides a secure connection so you don't need to worry about identity theft or other security issues online which may come up if you opt to connect to a public network;
Page loading speeds are fast and reliable;
Allows for stable connections no matter where you are; and
More cost-efficient than having to deal with your telco provider of choice and having to pay additional roaming charges while on the go.
---
Users' Reviews
"It was a bit hard to set it up at first, but it works just fine once you're online. I found changing the password to my Muama Ryoko a bit challenging, but that's the only thing I find wrong about this interesting network router."

Bob F.
"I love how efficient and reliable it is. As someone who brings many devices on the go, I was able to link them all smoothly to my Muama Ryoko. My Muama Ryoko test went splendidly. The device's unique design was also very attractive to me."

Bassam Q.
"The Muama Ryoko is a very useful device that you can easily take anywhere with you. Not only can you access the internet from anywhere, but it also helps boost any local signals you're able to access."

Omar N.
"It's an excellent product. The Muama Ryoko's functions are easy to understand and they do come in handy [when you travel.] I recommend it and you won't regret getting one. I am very satisfied with mine."

Andrew P.
---
Muama Ryoko Price (Discounted)
A single purchase of the Muama Ryoko will currently set you back $49.00 with free shipping and different Muama Ryoko monthly cost.
Your purchase will include the following:
Portable WiFi hotspot device;
Charging cable; and
Viota prepaid SIM card
Moreover, Muama Ryoko data plan will vary in costing, as follows:
Money-back guarantee
Muama, the company behind the device, offers a 30-day money-back guarantee if you are not satisfied with the product and send it back within 30 days of delivery. Take note that the customer needs to shoulder the cost of shipping the item back to the manufacturer.
Where to buy?
To ensure that you're getting a genuine product, we recommend that you buy yours only through the official website. Best to avoid resellers, like those on Amazon, for risk of refund policy issues.
---
Conclusion to our Muama Ryoko Reviews
We know how challenging it can be to stay connected whenever you're traveling, so getting a Muama Ryoko would certainly be a good investment for intrepid travelers.
What is it best for?
We would recommend this for frequent travelers, particularly for business as it enables them to stay abreast of their tasks and allows them to attend virtual meetings through a stable and secure connection.
What is it not best for?
Probably too expensive an item for those who hardly do any traveling or those who don't really need connectivity on the go.
Muama Ryoko Alternatives
Despite the rise of numerous competitors, Skyroam continues to be the brand to beat in terms of roaming WiFi access.
Muama Ryoko Reviews Final Word
As with all of our product reviews, our Muama Ryoko mobile router review is meant to help potential customers make informed decisions prior to making a purchase. In which case, we recommend shopping around for a connectivity solution that works best with your specific needs.
---
FAQ
How extensive is the Muama Ryoko's reach?
The device can be used in 139 countries. Note, however, that speeds may vary depending on network stability.
Can I use the Muama Ryoko with any SIM card?
While the device comes with a prepaid Viota SIM, it can work with just about any working mobile SIM card.
---
That's all for now:
If you've read all the way through this Muama Ryoko reviews, we are grateful. Hopefully, you now know the features, as well as pros and cons of this amazing product! We have a large collection of articles, guides, and comparison reviews of gadgets, consumer products, and others! Feel free to check them out;