⏳ Are you in a hurry? Then here's your short Lotus Trolley Bags Reviews summary:
Product Name: Lotus Trolley Bags
Product Description: Lotus Trolley Bags are an innovative alternative to the conventional shopping bag, as well as a great way to augment the carrying capabilities of a standard shopping cart.
Availability: OutOfStock
Usability

Reliability

Value for Money
Pros
Easy to use;
Can easily be cleaned;
Carries a great deal of stuff
Cons
Rather pricey for grocery bags
Introduction to our Lotus Trolley Bags Reviews
Welcome to our unbiased Lotus Trolley Bags reviews!
In today's environmentally conscious world, the need for sustainable and reusable implements for day-to-day living extends beyond the use of insulated flasks and stainless steel straws. For everyday shopping purposes, many of us have laid in a supply of reusable shopping bags made of jute, canvas, or even upcycled polymers. But did you know that reusable bags can help you shop even better? This is the gist of today's Lotus Trolley Bags reviews.
Presentation
Shopping for groceries isn't really that much of a chore. In fact, many of us consider it a welcome break and a spot of exercise, as well. What we don't like, however, is dithering over what stuff to buy, comparing prices, and – a real annoyance for many people – keeping cold and wet items from messing up dry items in your shopping trolley.
No matter how well you seem to segregate the items in your shopping cart, its rolling movement will eventually mean stuff will get knocked down and everything will jostle against everything else.
For this reason, you may want to consider a set of Lotus Trolley Bags for your household.
What are Lotus Trolley Bags?
Think of Lotus Trolley Bags as an innovative alternative to the conventional shopping bag, as well as a great way to augment the carrying capabilities of a standard shopping cart.
Each set features four bags: three canvas-style polymer bags with huge capacity, as well as one insulated bag for cold or frozen items. The Lotus trolley bags also feature numerous sleeves and pockets, enabling you to safely tote everything from food items to those for household cleaning and laundry without any form of contamination.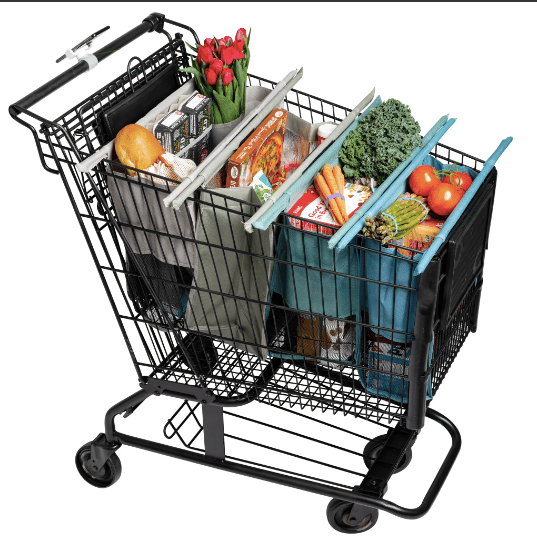 ---
Features
The Lotus Trolley Bag 4 Bag Set's key features are as follows:
Set of 4 heavy-duty reusable bags, including an insulated cooler bag, designed to help make grocery shopping faster and easier;
Additional pockets on the inside and outside of bags to hold more items;
Durable double stitching on all bags to hold over 50 pounds;
Machine washable, so they're easy to clean and ensure that your bags are safe to use with fresh food;
Removable support rods for cart and non-cart use;
Velcro strips to detach bags from shopping system for individual use;
Mold-resistant mesh bottoms;
Designed to fit inside U.S. standard shopping carts at most grocery stores, as well as at Target, and Walmart; and
Can easily be rolled into a compact bundle for easy carrying.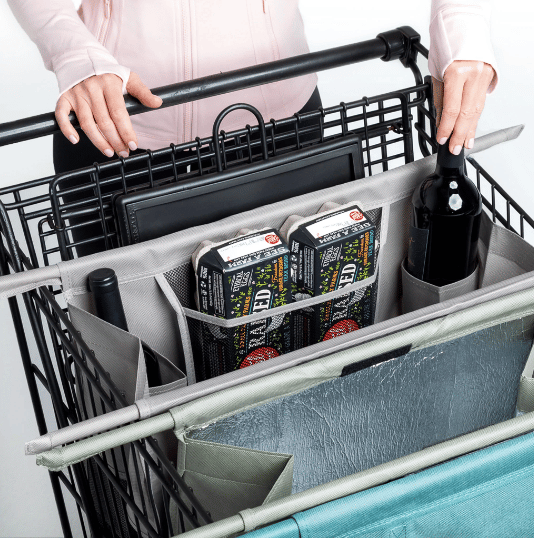 ---
How to use it?
Using Lotus Bags is a simple and straightforward process:
Place the bag system into your shopping cart by setting the holding rods on the top of the cart's basket;
Extend the bags to ensure maximum carrying capacity;
If you're only shopping for a few items, you can easily detach bags and use only the ones you need;
You can easily carry your groceries out of the cart and into your car using the holding rods and, in the same way, carry them into your home;
When you're done, you can easily put them away or drop them into the washing machine for a thorough clean.
---
Benefits and Advantages
Having a set of Lotus Trolley Grocery Bags on hand allows you to enjoy the following benefits:
They have an enormous carrying capacity, so you can easily ferry out / ferry in a greater amount of items than you could using a shopping cart alone;
Made with machine-washable materials;
Mold-resistant, so you need not worry that they'll end up smelling musty or that they could pose a health risk to your family;
You don't need to use additional packaging, especially plastic packaging, whenever you shop; and
You can even use them for other purposes like outings, picnics, and even cross-country / international travel.
---
Users' Lotus Trolley Bags Reviews
"I can't say enough about these Lotus Trolly Bags. I saw them at my local market and eventually decided to purchase them. I get compliments about them everywhere I go. I love to organize stuff, so these bags are a dream: so easy to carry, put away, and they look amazing."

Winnie R.
"My Lotus Reusable Produce Bags stay in my car for all shopping trips. I use a shop-and-scan app at Meijer and literally have to handle products from off the store shelves, and then again when I get home and need to put them away. Since my freezer is in the garage and I sort my items as I shop, the bag holding frozen stuff doesn't even come in the house. The bags fit most shopping carts, though I had a small issue with one of the rods bending, but managed to fix it. Overall, it's a very good product and so helpful with reducing plastic use!"

Anna E.
"Lotus Trolley Bags are amazing and are the easiest way to use reusable bags when grocery shopping. We have long used other cloth bags to avoid using plastic bags in stores, but these are the ones I'd strongly recommend to others . In fact, the freezer bag is a great addition to the set, along with egg and bottle sleeves."

Lexi D.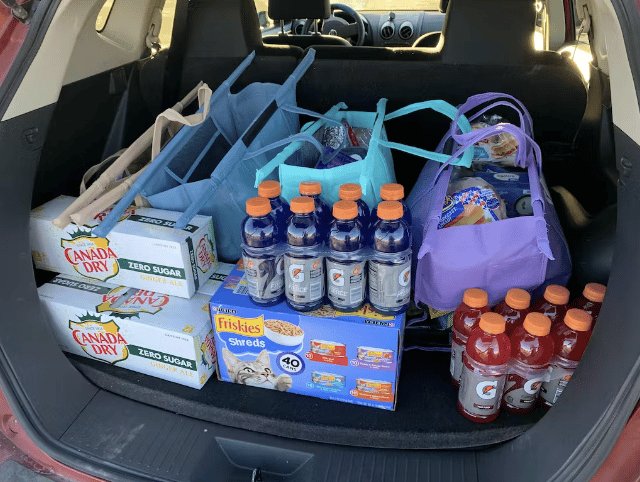 ---
Lotus Trolley Bags Pricing
A set of Lotus Trolley Grocery Bags will set you back by $59.99 and shipping is free for all orders from within the mainland United States.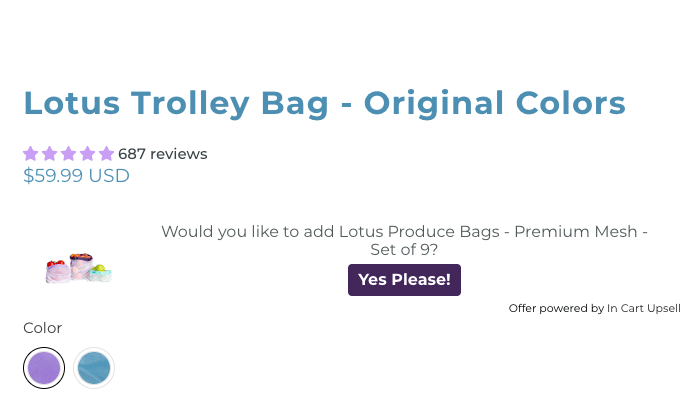 Pricing options
Lotus Sustainables, the company behind the trolley bags, offers a deal for those who also want to keep their fruit and veg fresh and whole both while shopping and after bringing the groceries home.
A $79.00 value, the package includes a set of Lotus Trolley Bags, as well as nine Lotus Produce Bags. You might also want to keep tabs on Lotus Trolley Bag discount codes and Lotus Trolley Bag Coupon Code.
Money-back guarantee
Unsatisfied with the bags? Lotus Sustainables offers a 100% money-back guarantee: a full refund if you send the bags back within 60 days of delivery.
Lotus Grocery Bags Where to buy?
To ensure that you're getting the real deal, make it a point to buy your Lotus Trolley Bags For Shopping Cart from the official website.
We recommend avoiding any reseller stores, like those on Amazon, eBay, Facebook Marketplace, also for any possible refund policy issues.
---
Conclusion to our Lotus Trolley Bags Reviews
What is it best for?
Families and institutional shoppers.
What is it not best for?
Those who shop for two-person or one-person households.
Lotus Grocery Trolley Bags Alternatives
Handy Sandy 3-in-1 Trolley Bags are a reasonable alternative, but their capacity is slightly less limited.
Lotus Trolley Bags Reviews Final Word
If you want a sustainable alternative to conventional shopping bags, then the Lotus Grocery Trolley Bags ought to be one of your options.
---
FAQ
How many bags do I get with each purchase?
Lotus Grocery Trolley Bags are sold in sets of four, with three being standard canvas holders and the fourth an insulated bag for frozen or cold items.
Can they be used for fragile items?
Yes, as there are pockets for egg crates and even wine bottles.
---
If you've read all the way through this Lotus Trolley Bags reviews, we are grateful. Hopefully, you now know the features, as well as pros and cons of this amazing product! We have a large collection of articles, guides, and comparison reviews of gadgets, consumer products, and others! Feel free to check them out;