⏳ Are you in a hurry? Then here's your My Happy Feet Socks Review snapshot:
Product Name: My Happy Feet Socks
Product Description: Happy Feet Socks are foot alignment socks that serve as a non-surgical way to relieve chronic foot pain by actively realigning one's toes. 
Availability: LimitedAvailability
Usability

Reliability

Value for Money
Pros
Comfortable to wear;
Can prevent the need for surgery with regular use;
Easy to wash
Cons
Some may find the design bulky;
Relief is not instantaneous;
Sizes for children are not available
Introduction to our Happy Feet Socks Review
Your feet take you just about anywhere. You walk; sometimes you run, sometimes you jump – and you go places. Unfortunately, as you grow older – or if you're working in an occupation where you need to be on your feet most of the time – the wear and tear on your feet may lead to a number of degenerative issues. When that happens, every step you take may be punctuated by pain.
While it's easy to pop a pain reliever, foot pain can be alleviated by investing in good footwear – and that doesn't just refer to shoes, but to socks, as well. And we aren't talking about just any socks, but specially designed Happy Feet Socks.
In today's My Happy Feet Socks review, we talk about how these specially designed socks can help relieve foot pain and make walking a more comfortable and enjoyable experience.
What are Happy Feet Socks and How Do They Help Users?
Developed by Ohio-based entrepreneur Eva Nemcik, Happy Feet Socks are foot alignment socks that serve as a non-surgical way to relieve chronic foot pain by actively realigning one's toes.
Nemcik, an avid yoga practitioner, hit upon the idea of applying the warmup technique of stretching the toes and feet prior to a session when she designed the socks. As a result, these handy socks gently stretch out one's toes, allowing each digit to move properly; likewise, strained foot muscles are relaxed and reconditioned over time.
These socks may be worn for a few hours in the daytime or worn overnight in order to realign misaligned toes. In doing so, the wearer can feel better as they can safely stretch and exercise their feet to improve their condition.
That said, these are an excellent alternative to surgery for conditions like bunions, hammertoe, heel pain, plantar fasciitis, and crooked toes among others. Wearing Happy Feet socks allows wearers to stave off the pain by keeping their feet mobile and flexible.
---
Features
Each pair of Happy Feet Foot Alignment Socks includes a pair of toeless socks with four toe separators built into each pair.
The socks are made with the following textiles:
90% cotton;
7% polyester; and
3% elastane.
These are available in unisex small, medium, and large sizes.
---
How to use My Happy Feet Socks
These socks may be worn for a minimum of fifteen minutes a day if all you need is a simple realignment of your toes.
For those with more painful conditions such as frequent toe cramping or plantar fasciitis, the socks may be worn for as long as four hours in the daytime or, for better results, overnight, so one's toes and feet are gently stretched and relaxed as they sleep.
Keep in mind that results are not instantaneous. It may take a few days, or even a few weeks, before one sees or feels any relief from wearing Happy Feet Mens Socks.
---
Benefits and Advantages
The benefits of wearing My Happy Feet Socks include the following:
Uses soft alignment to correct crooked toes and misaligned feet
These socks were designed with yoga stretching techniques in mind, so the separators are made in such a way that these both soothe any pain one feels in the feet whilst returning one's toes to proper alignment. In doing so, chronic pain is gradually eased;
All-natural and doesn't depend on pharmaceutical analgesics
Since these are made of cotton and are worn rather than ingested, wearers don't have to go through any narcotic side effects. Likewise, regular use of Happy Feet Toe Socks may actually reduce the need for painful and expensive orthopedic surgery or require the use of corrective footwear, crutches, and joint braces;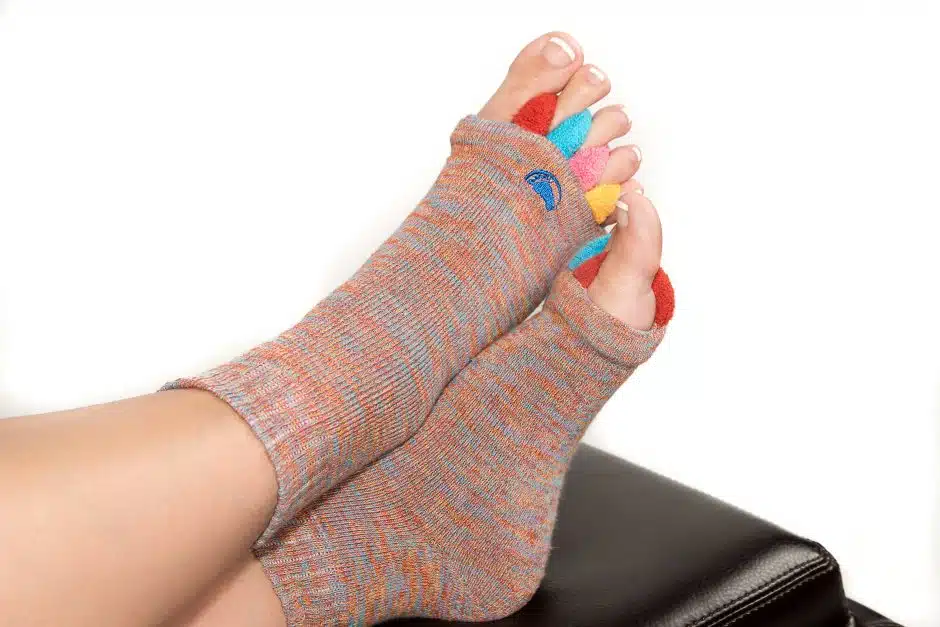 Can be used for a number of foot and toe conditions
Happy Feet Socks may be worn to relieve pain from plantar fasciitis, hammertoes, simple bunions, bursitis, tendinitis, osteoarthritis, rheumatism, and even diabetic neuropathy of the lower extremities;
Offer pure comfort
The soft, cushiony texture of Happy Feet Socks ensures that these can be worn comfortably in and out of doors; and
Easy to maintain
My Happy Feet Socks are machine washable. They also come in three sizes to ensure optimal comfort.
---
Users' Happy Feet Socks Reviews
If you need more convincing, here are some actual reviews from people who've bought these socks:
"I started looking into what might help with foot pain without going for testing. These socks really have saved me. I had reached a point that my foot would start burning with any shoe, including sneakers, [and]I was worried I wouldn't be able to hike anymore. I read about these socks and tried them. I highly recommend them; they really do help with toe alignment."

Dr. Reader
"If you have terrible foot cramps that make your toes cross over, these help tremendously. My mom has been using these for years, [and] she had me buy her new ones while she was in the hospital. They really help with the pain and prevent cramps and toe issues."

Gary0007
"These socks are amazing. They have helped so much with peripheral neuropathy in my feet. I am able to walk better and I have better balance. I wear them at night and sometimes during the day if I am experiencing pain. They stretch the muscles and tendons in my feet [and that] alleviates the pain tremendously."

Diane Mallett
---
MyHappyFeetSocks Pricing (Discounted)
Regardless of size, Happy Toes Socks are sold at different pricing packages. Note that the price excludes shipping and handling.
For orders of two or more pairs within the mainland United States, shipping is free.
Money-Back Guarantee
My Happy Foot Socks come with a 90-day money-back guarantee.
Items in question need to be returned in their original packaging within the stipulated time period. Also, they need to be free from damage of any kind.
Customers returning items are responsible for paying the shipping and handling of the returned items; note that shipping costs are not refundable.
Also, refunds are only issued for the full purchase price and do not include shipping and handling fees.
Where Can You Buy My Happy Feet Socks?
If you want the best deal, we recommend only buying the socks directly from the official Happy Feet Socks website.
Best to avoid reseller sites like with Amazon, eBay, Facebook Marketplace, for risk of non genuine products and refund policy issues.
---
Conclusion to our My Happy Feet Socks Review
Now, to wrap up our Happy Feet Socks review;
What is it best used for?
Chronic foot pain;
Sprains and strains of the foot and ankle;
Frequent toe cramping;
Hammertoes and bunions;
Diabetic neuropathy of the feet;
Pain and swelling due to arthritis and other rheumatoid disorders
What is not best used for?
Those with more severe foot issues that require a medical regimen and/or surgery
MyHappyFeetSocks Alternatives
Metatarsal pads one can wear overnight are a good alternative, while gel-filled socks can help those who come home footsore every day.
My Happy Feet Socks Review Final Word
Whether or not you're active, your feet need pampering and care. Having a pair of Happy Feet Alignment Socks on hand is a great way to ensure that you can properly stretch your tootsies and walk (or run, jump, hike, and even dance) without pain and in absolute comfort and confidence.
---
FAQ
Are Happy Feet Socks made with analgesics?
No, these are absolutely drug-free and are made with 90% cotton. When you wear them, the spacers between the toes gently stretch your toe and foot muscles, ensuring comfort and pain relief without pharmaceutical help.
Can those with diabetic neuropathy wear Happy Feet Socks?
Yes, the socks can actually help relieve the pain caused by the condition with regular use.
Is there a money-back guarantee?
Yes, absolutely. You can return the socks after 90 days, no questions asked.
---
That's all for now:
If you've read all the way through this MyHappyFeetSocks reviews, we are grateful. Hopefully, you now know the features, as well as pros and cons of this amazing product! We have a large collection of articles, guides, and comparison reviews of gadgets, consumer products, and others! Feel free to check them out;