⏳ Are you in a hurry? Then here's your CreaClip Reviews snapshot:
Quick Summary
The CreaClip is a two-item set that enables those cutting their own hair or that of their families or friends to get neat and balanced haircuts in a variety of chic and easy-to-maintain styles. 
Usability

Reliability

Value for Money
Pros
Can be used right out of the box;
Comes with links for instructional videos and tutorials;
Suitable for different types of hair
Cons
Expensive for a product of its type;
Not suitable for longer and thicker hair;
Some of the tutorials are for more advanced users
Introduction to our CreaClip Reviews
Welcome to our CreaClip reviews!
One of the surprising – even amusing – offshoots of having to shelter in place throughout the pandemic is that many of us picked up a fresh set of skills because we had no access to our usual service providers.
While many people have learned how to bake and cook, others have decided to forego the pleasures of the table in favor of improving their appearance and that of the people around them. For this reason, online tutorials for applying makeup and styling one's hair have increased in popularity over the past couple of years. However, while it's one thing to learn how to do things by watching videos, not having the proper equipment to actually apply what you've learned on a practical basis can be an issue.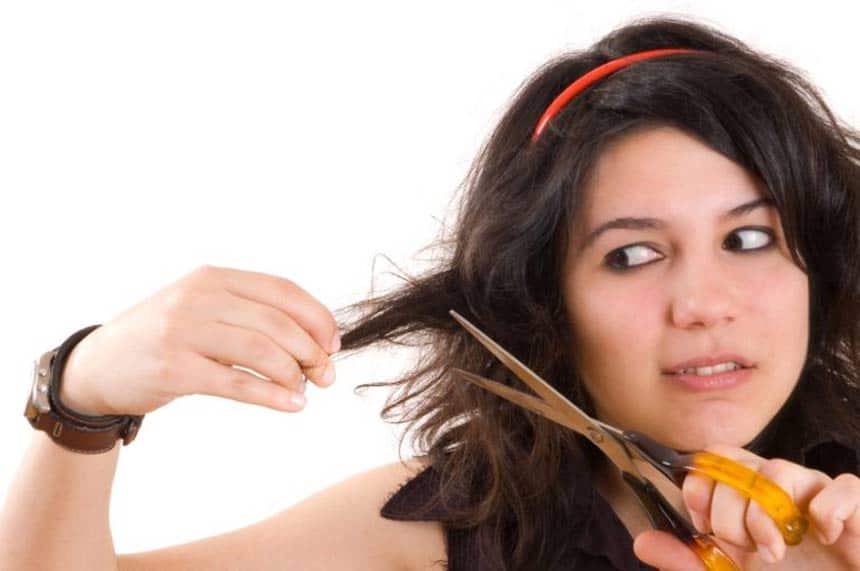 For that reason, items like the CreaClip were developed for home-based hairstyling enthusiasts who want to create great-looking hairstyles and cuts at the fraction of the cost one would usually pay at a salon or barbershop. But does the CreaClip Shark Tank hair cutting tool actually work? Our CreaClip reviews seeks to answer that and any other questions regarding the product.
What is a CreaClip and What Does It Do?
The CreaClip hair cutting tool system is a two-item set that enables those cutting their own hair or that of their families or friends to get neat and balanced haircuts in a variety of chic and easy-to-maintain styles.
The product is an excellent choice – practically a cheat, you might say – for challenging aspects of hairstyling like keeping one's bangs looking good as they grow out or creating layers for a hip and edgy look. It also makes cutting kids' hair at home easier and less of a trial for both parents and children.
---
Features
For this CreaClip reviews, the CreaClip set includes the following:
One small blue CreaClip for short hair, for trimming bangs or doing shorter cuts;
One large white CreaClip for longer hair or creating layered cuts;
Access to the official CreaClip Facebook group for product and community support; and
Links to official CreaClip videos which range from basic tutorials to creating more elaborate hairstyles.
---
How to Use It?
At its most basic, the CreaClip only takes three steps:
Clip either the larger or small CreaClip to the hair;
Slide the clip down to the desired length;
Cut the hair, following the length of the clip, to ensure a straight and even finish.
If you want to create more elaborate styles or want to try out different CreaClip haircuts, the official CreaClip YouTube channel offers a variety of videos that can aid you.
---
Benefits and Advantages
Using CreaClip UK accords the following advantages:
Cut your own hair or that of family and friends at the fraction of the cost it takes at a salon;
Create professional-looking hairstyles as the CreaClip makes tricky aspects of hair-cutting like cutting good-looking bangs and layers much easier;
Learn how to do more elaborate cuts through its regularly updated series of instructional videos on YouTube; and
Learn hairstyling techniques from both professionals and peers through CreaClip's social media groups and channels.
---
Users' CreaClip Reviews
"I bought this because nothing is scarier than sitting in a hair stylist's chair for an hour or more. I had damaged ends and was badly in need of a trim and, even with shorter hair, I was able to get a clean and even cut. It's just hair, after all. Get a CreaClip and try it. If your DIY cut doesn't turn out, it will always grow again. But it may look amazing, like mine does now. Looks like all my kids are getting at home hair cuts from now on – sorry, kids!"

Alisha H.
In a search on how to trim your own hair on Youtube I ran across the CreaClip – how ingenious! It works like a charm for what I need. I know it also has the potential to cut CreaClip layers, but that's not what I'm looking to do. I use the smaller straight shot one for [trimming my ends whenever necessary. I've saved hundreds in unhappy haircuts; highly recommended."

M. Lynn
"My hair was growing at an unreasonable rate due to my pregnancy, and it is normally as thick as three heads of hair! Anyway, it was past my shoulders and I was miserable and hot. I saw the CreaClip on Instagram and decided to give it a try. If you are going to do this on your own head, use the bang tool and go slow. The tiny one gives you a balanced cut all over your head, even in the back, with the assistance of a couple of well-placed mirrors."

MsKB
---
CreaClip Pricing (Discounted)
One two-clip CreaClip set will set you back by $39.99, excluding shipping and handling.
The product is also bundled with other Crea products to help customers bring a total salon experience into their homes from great-looking hair to fabulous manicures.
Money-Back Guarantee
A CreaClip set has a 30-day money-back guarantee. However, in order to be eligible for a refund, one must return the item in its original packaging, including any inserts. The customer is likewise responsible for the cost of shipping the item back to the manufacturer.
Where Can You Get the CreaClip?
We recommend that you buy the CreaClip hair cutting tool directly and only from the manufacturer's website. Reseller sites, like Amazon, should be avoided for risk of fake products and refund policy issues.
---
Conclusion to our CreaClip Reviews
Now to wrap up our CreaClip reviews;
What is it best used for?
Creating basic hairstyles at home;
Learning how to cut hair on one's own;
Children's haircuts;
Maintaining short to medium length hair
What is not best used for?
Probably not a good choice for longer and thicker hair.
CreaClip Alternatives
Similar products are available online, but none have the same level of product and community assistance as the CreaClip.
CreaClip Reviews Final Word
It may sound like a hefty price for a couple of hair-cutting clips, but hear us out: the fact that a bit of practice and regular viewing of instructional videos related to the CreaClip actually saves you money on expensive haircuts in the long run. It's a nifty little product that certainly takes you places and ensures that everyone around you is sporting a hip and stylish cut.
---
FAQ
Does the CreaClip come with instructions?
Your CreaClip will arrive with links that will give you access to the product's official Facebook page and its YouTube channel. There, you will find a number of basic tutorials and instructional videos for more elaborate styles.
Are there any products from the same manufacturer that can help me create my own salon experience at home?
Yes, Crea Products also offers the CreaLash for creating gorgeous eye makeup looks and CreaNails, a set of manicure stencils. The company also produces its own prep spray for hair.
---
That's all for now:
If you've read all the way through this CreaClip reviews, we are grateful. Hopefully, you now know the features, as well as pros and cons of this amazing gadget! We have a large collection of articles, guides, and comparison reviews of gadgets, consumer products, and others! Feel free to check them out;