⏳ Are you in a hurry? Then here's your short Bleame Review summary:
Quick Summary
Bleame is a handheld hair removal solution that works by scrubbing off body hair and leaving a smooth finish.
Usability

Reliability

Value for Money
Pros
Easy to use;
Does not require batteries;
Eco-friendly and non-toxic
Cons
Can be ineffective on thicker body hair
Introduction to our Bleame Reviews
Welcome to our Bleame reviews!
Body hair is such an inconvenient – and often unsightly – thing to have on you. We do so many things to remove body hair: plucking, shaving, waxing, and the use of depilatory lotions. But while these effectively remove one's body hair, they do tend to be more than a little uncomfortable and have a number of side effects like cuts and scarring.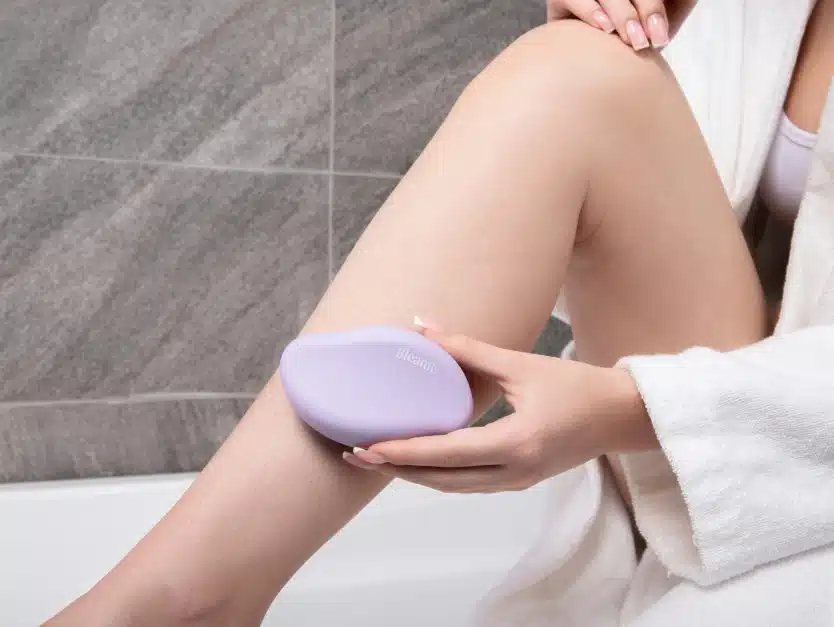 Today's Bleame Crystal Hair Remover reviews will look into how this particular solution stacks up against these more conventional hair removal methods.
Presentation
Most of the time, those of us who shave end up with skin irritation – a condition referred to as razor burn. That's a seriously annoying (and embarrassing) for the ladies out there who rely on razors. Likewise, waxing has its own set of issues. Those with sensitive skin suffer from horrific rashes and skin that feels raw and painful.
Crystal hair removers, also known as hair erasers as they look like chalkboard or whiteboard erasers, were created to provide an alternative that is painless, more convenient, and much easier to use. Bleame is one such crystal hair remover and, today, we'll see how well it works.
What is the Bleame Crystal Hair Remover?
A classic example of a crystal hair eraser, Bleame is a handheld hair removal solution that works by scrubbing off body hair and leaving a smooth finish.
Crafted with nano-crystalline technology, Bleame clumps up the hair on the surface of the skin, enabling it to break off when the eraser is rubbed onto the body. Likewise, it doubles as a gentle exfoliant and users can have soft and smooth skin after use.
---
Features
What you get when you purchase a Bleame Crystal Hair Eraser is a handheld exfoliant bar with a rough nano-crystalline surface on both sides and is ergonomically designed for a good grip.
It also doesn't require batteries or recharging and can be used for up to a year from purchase.
---
How to use it?
Moving on with our Bleame Crystal Hair Erase review, using the Bleame Crystal Hair Eraser is a fairly straightforward process:
Prepare the skin you're planning to clear of hair by dampening it. Ideally, the Bleame should be used after you shower or bathe;
Rub the Bleame Crystal Hair Eraser over the specified area using moderate pressure in a circular motion to evenly remove unwanted hair;
Clean the Bleame eraser after use by rinsing it well under running water.
For best results, do not apply body cream or lotion prior to using your Bleame Crystal Hair Eraser.
---
Benefits and Advantages
Moving on in our Bleame Crystal Hair Eraser review, the advantages of using Bleame are as follows:
It is guaranteed to remove unwanted hair even in intimate areas;
It doubles as an exfoliant that effectively removes dead or dry skin cells;
Using it is virtually painless;
It is crafted with non-toxic materials; and
Being reusable, it's highly eco-friendly.
---
Users' Bleame Reviews
So you're probably wondering – Bleame does it work?
"I wasn't sure this would work. I'd just had a bad experience with a handheld hair-removal laser and was looking for alternatives for hair removal without really thinking anything would work. But I tried Bleame razor alternative as soon as it came – and OMG, it really works! Check Bleame before and after pics and you'll know! I even gave one to my friend because it works so well."

Star V.
"I've been struggling with ingrown hair for over two years before I stumbled across Bleame trustpilot reviews. I ordered it, half-expecting it to be another fake promise. To my utter amazement, Bleame UK really works – and the effect was instant. My skin looks great, no red spots, no strawberry skin, and no ingrown hair. It is worth every penny."

Klaudia B.
"I read several Bleame eraser reviews online and was so excited to try Bleame shaver alternative. I honestly thought that it would hurt, but it was so effortless and painless, I love it! That's why there are not many Bleame bad reviews. It worked so well on my arms and even did a good job on my shorter leg hairs. It worked on my bikini line, as well."

Kirsti Z.
---
Bleame Pricing (Discounted)
Moving on with our Bleame Crystal review, what about cost?
A single Bleame Crystal Hair Remover will set you back by $39.00, excluding the cost of shipping and handling.
Pricing options
Buyers can get Bleame discount codes when purchasing, and you can save when you buy more than one Bleame at a time. Discounted package rates are as follows:
Shipping is free for multiple-item purchases.
Money-back guarantee
Beame offers a thirty-day trial period. If you aren't happy with the purchase, simply send the item back for a refund within the stipulated period.
Where to buy?
To ensure that you're getting an authentic item, purchase your Bleame Crystal Hair Eraser directly from the official website.
---
Conclusion to our Bleame Reviews
Now to wrap up our Bleame hair removal reviews;
What is it best for?
Those with sensitive skin and whose body hair texture is particularly fine.
What is it not best for?
Those who are significantly hirsute and whose body hair texture runs along coarser lines.
Bleame Alternatives
While somewhat more expensive, the Dermaflash Luxe exfoliation wand does an excellent job of both exfoliation and lighter hair removal.
Bleame Reviews Final Word
For those with sensitive skin or who don't have at all that much in the way of body hair, the Bleame Crystal Hair Remover is an excellent alternative to shaving, electrolysis, or even laser-driven hair removal.
We are impressed with Bleame, so we urge you to take advantage of their free trial, since it's a win-win.
As with all our reviews, our Bleame Crystal Hair Remover reviews are means to help potential buyers make informed decisions prior to making a purchase. In which case, we recommend shopping around for hair removal solutions that would work best for you.
---
FAQ
Do I need to charge my Bleame?
No, as the Bleame does not require batteries to work.
I have sensitive skin; would the Bleame work on me?
Yes, as the Bleame has been proven to work on even the most sensitive skin and its nano-crystalline surfaces are hypoallergenic.
---
That's all for now:
If you've read all the way through this Bleame Hair Eraser reviews, we are grateful. Hopefully, you now know the features, as well as pros and cons of this amazing product! We have a large collection of articles, guides, and comparison reviews of gadgets, consumer products, and others! Feel free to check them out;